Madagascar Conservation News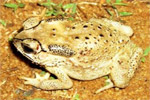 Invasion of Poisonous Asian toad in Madagascar is a greater threat to biodiversity than previously thought
(07/06/2015) Invasive species are among the greatest threats to the world's biodiversity, and amphibians rank among the most devastating vertebrate invaders. That's why the discovery of the Asian toad (Duttaphrynus melanostictus) in Madagascar's second largest city and main port of Toamasina in March 2014 so alarmed conservationists.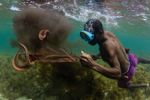 Photos: periodic closure of fishing grounds boosts octopuses and helps coastal communities
(06/17/2015) For communities that depend on fishing for their livelihoods, fishing bans as a way to conserve marine life are not always popular. But some villages in southwest Madagascar seem to have hit upon a strategy to reap economic gains from bans. Temporarily closing down portions of their octopus-fishing areas every year not only helps villages revive declining octopus populations, but also generates more income for fishermen and fisherwomen, according to a new study.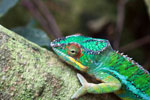 Up to 11 stunningly colorful chameleon species discovered in Madagascar
(05/26/2015) The panther chameleon, a lizard prized in the pet trade for its remarkable color changing abilities, may actually represent 11 different species, report researchers writing in the journal Molecular Ecology. Analyzing the genetics of more than 300 individual panther chameleons, Swiss and Malagasy researchers make a case that different color morphs of Furcifer pardalis may be distinct species.



Borneo's rainforest may get high-tech 3D scan to boost conservation
(05/04/2015) Conservation efforts in Borneo's embattled rainforest may get a boost with the launch of the newest version of an advanced airplane-based monitoring and assessment system. On Friday, the Carnegie Institution officially unveiled the latest upgrade of the Carnegie Airborne Observatory, an airplane equipped with technologies that enable scientists to conduct extremely high resolution scans of forest structure, biomass, and biological diversity. The platform has generated a wealth of information in places where it has been flown before.



Innovative community fisheries initiative wins top social entrepreneurship prize
(04/13/2015) A program that helps restore overfished areas through community-based marine conservation has won the Skoll Foundation's top prize for social entrepreneurship. Today the Skoll announced Blue Ventures, which piloted its approach in Madagascar a decade ago before expanding to other regions, was one of four organizations to be honored with the $1.25 million Skoll Award for Social Entrepreneurship.



Chocolate company, NGO work together to save lemurs
(03/30/2015) Despite its biodiversity and unique plants and animals, Anjanaharibe-Sud Special Reserve hosts only around a dozen tourists each year. In an effort to increase tourism and research opportunities, the Lemur Conservation Foundation will be using the money raised during the Madécasse promotion to develop Camp Indri - the reserve's only authorized tourist site.



Madagascar's frog haven: rich, underexplored, threatened
(03/04/2015) Madagascar is a treasure trove of frogs. Located off the east coast of Africa, this large island nation has more than 500 species of frogs, many of which are found nowhere else in the world. Much of Madagascar's rich biodiversity remains understudied. As researchers comb through the country's forests, they continue to discover previously undescribed species of frogs, adding to Madagascar's amphibian diversity.



Rainforest loss increased in the 2000s, concludes new analysis
(02/25/2015) Loss of tropical forests accelerated roughly 60 percent during the 2000s, argues a paper published in the journal Geophysical Research Letters. The findings contradict previous research suggesting that deforestation slowed since the 1990s. The study is based on a map of 1990 forest cover developed last year by Do-Hyung Kim and colleagues from the University of Maryland. The map, which includes 34 countries that contain 80 percent of the world's tropical forests, enabled the researchers to establish a consistent baseline for tracking forest cover change across regions and countries over time.



$7 million could save lemurs from extinction
(02/25/2015) Last year, scientists released an emergency three-year plan that they argued could, quite literally, save the world's lemurs from mass extinction. Costing just $7.6 million, the plan focused on setting up better protections in 30 lemur hotspots. However, there was one sticking point: donating to small programs in one of the world's poorest countries was not exactly user friendly.


Campaign asks consumers to directly support forest conservation
(02/18/2015) A new campaign is calling on consumers to directly support forest conservation with their wallets. Stand For Trees is an initiative launched by Code REDD, a marketing platform for a group of organizations running REDD+ forest conservation projects.



Madagascar establishes a sanctuary for sharks
(02/06/2015) The government of Madagascar has established the Indian Ocean island's first shark sanctuary in an area famous for its marine biodiversity, reports the Wildlife Conservation Society (WCS).



Chameleon crisis: extinction threatens 36% of world's chameleons
(11/24/2014) Chameleons are an unmistakable family of wonderfully bizarre reptiles. They sport long, shooting tongues; oddly-shaped horns or crests; and a prehensile tail like a monkey's. But, chameleons are most known for their astonishing ability to change the color of their skin. Now, a update of the IUCN Red List finds that this unique group is facing a crisis that could send dozens of chameleons, if not more, to extinction.


New gecko described in Madagascar
(11/16/2014) Researchers have described a previously undocumented species of gecko in Madagascar.



Small chocolate company takes big steps toward conservation and human development
(10/01/2014) Madécasse is not just another chocolate company selling their bars in high-end supermarkets across the United States and Europe. Their bean-to-bar business model is shaping the way small companies deal with the developing world while providing new reasons to conserve a biodiversity hotspot.



A path to becoming a conservation scientist
(09/05/2014) The path to finding a career often involves twists and turns. Serendipity is important — one rarely anticipates what small events, chance occurrences, and seeds of inspiration will spur decisions that lead to pursuing one job or another. For Zuzana Burivalova, a PhD candidate based at the Swiss Federal Institute of Technology in Zurich (ETH Zurich), the road to becoming a tropical forest ecologist began as a child in a small Czech Republic village with a foldout children's book about rainforests.



New skeleton frog from Madagascar is already Critically Endangered
(08/20/2014) Sometimes all it takes is fewer clicks. Scientists have discovered a new species of frog from Madagascar that stuck out because it "clicked" less during calls than similar species. Unfortunately the scientists believe the new species—dubbed the Ankarafa skeleton frog—is regulated to a single patch of forest, which, despite protected status, remains hugely threatened.



Titanium vs. Millipedes: new species discovered in Madagascar threatened by mining
(08/13/2014) A team of scientists from the United States and Germany has recently described seven new species of Malagasy giant pill-millipede. All but one of these species are considered "microendemics," in that they have only been found in small, isolated forest patches.


China failing to take effective action against timber smugglers
(08/12/2014) Voluntary guidelines established by the Chinese government won't be enough to curb rampant timber smuggling by Chinese companies, putting 'responsible' actors at risk of having their reputations tarnished, argues a new campaign by the Environmental Investigation Agency (EIA).



Only 15 percent of world's biodiversity hotspots left intact
(07/14/2014) The world's 35 biodiversity hotspots—which harbor 75 percent of the planet's endangered land vertebrates—are in more trouble than expected, according to a sobering new analysis of remaining primary vegetation. In all less than 15 percent of natural intact vegetation is left in the these hotspots, which include well-known jewels such as Madagascar, the tropical Andes, and Sundaland.



Next big idea in forest conservation? Rewards for reforestation
(07/10/2014) Susie McGuire and Dr. Edward Louis Jr. are the powerhouse team behind the Madagascar Biodiversity Partnership (MBP), an NGO that involves local residents—both human and primate—in reforestation efforts in Madagascar. A conservation geneticist and veterinarian by training, Ed Louis has discovered 21 lemur species and successfully reintroduced two species of locally extinct lemurs back into the wild.



Over 800 species added to IUCN threatened list, including 44 lemurs
(06/16/2014) Experts have added 817 species to the threatened categories of the IUCN Red List in the latest update. Those added include 51 mammals—mostly lemurs—and over 400 plants. The new update finds that over 90 percent of lemurs and 79 percent of temperate slipper orchids are threatened with extinction.



Singapore intercepts massive illegal shipment of Madagascar rosewood
(06/03/2014) Authorities in Singapore have made the largest-ever international seizure of rosewood logs, providing further evidence that industrial-scale smuggling of Madagascar's rainforest timber continues despite an official ban on the trade. Details of the seizure remain sparse since the investigation is still active, but leaked correspondence between officials in Madagascar indicates that the shipment amounts to 3,000 tons, or more than 29,000 illicit rosewood logs.



Next big idea in forest conservation? Linking public health and environmental degradation
(05/22/2014) Dr. Christopher Golden is an explorer on a mission. As both an epidemiologist and ecologist, he is investigating and expanding the interface between human and ecosystem health. This year, Golden was appointed the Director of Wildlife Conservation Society's HEAL (Health & Ecosystems: Analysis of Linkages) Program.



Lemur expert becomes first woman to win top conservation prize
(05/17/2014) Lemur expert Patricia C. Wright has become the first woman to win the prestigious Indianapolis Prize, an award granted every two years for achievement in wildlife conservation. Wright was chosen for her contributions to wildlife conservation in Madagascar, where she's worked with lemurs for nearly 30 years.



Vazaha is Malagasy for 'gringo': Conservation, national identity, and conflicting interest in Madagascar
(05/15/2014) In the fight for conservation Madagascar is without a doubt on the front lines. Not only are most of its forests already destroyed—with a mere 10% of intact forest remaining at best—but there's still much to lose in what remains. Madagascar is listed as having the third highest primate diversity in the world, with all primate species being lemurs.



Amphibian pandemic may have hit Madagascar, hundreds of species at risk of infection
(04/11/2014) Madagascar is one of the world's hotspots for amphibian diversity, home to so many frog species that many of them don't even have names. But soon the island may also harbor a fungus causing drastic declines – even extinctions – of frogs around the world. Ironically, the wildlife trade that's often blamed for helping spread the disease may also give scientists a chance to prevent it.


Madagascar lemurs share spotlight with primatologist in new IMAX film
(04/03/2014) Tomorrow's opening of the IMAX film Island of Lemurs: Madagascar showcases not only endangered primates, but one of Madagascar's top conservationists: primatologist Patricia C. Wright.



Panda lemur making a comeback
(03/20/2014) One of the world's biggest populations of greater bamboo lemurs (Prolemur simus)—sometimes known as the panda lemur—has doubled in just three years, giving conservationists new hope that the species can be kept from extinction. With the recent arrival of twenty babies, a community conservation project run by the Aspinall Foundation has boosted the local population to over 100 individuals in Andriantantely, one of Madagascar's only surviving lowland rainforests. Greater bamboo lemurs are currently categorized as Critically Endangered, though they were once believed extinct until hidden populations were uncovered in the 1980s.



The lemur end-game: scientists propose ambitious plan to save the world's most imperiled mammal family
(02/20/2014) Due to the wonderful idiosyncrasies of evolution, there is one country on Earth that houses 20 percent of the world's primates. More astounding still, every single one of these primates—an entire distinct family in fact—are found no-where else. The country is, of course, Madagascar and the primates in question are, of course, lemurs. But the far-flung island of Madagascar, once a safe haven for wild evolutionary experiments, has become an ecological nightmare. Overpopulation, deep poverty, political instability, slash-and-burn agriculture, illegal logging for lucrative woods, and a booming bushmeat trade has placed 94 percent of the world's lemurs under threat of extinction, making this the most imperiled mammal group on the planet. But, in order to stem a rapid march toward extinction, conservationists today publicized an emergency three year plan to safeguard 30 important lemur forests in the journal Science.


Microsoft buys Madagascar carbon credits
(02/15/2014) Technology giant Microsoft has bought the first carbon credits generated under a rainforest conservation project in Madagascar, reports Wildlife Conservation Society (WCS), which organized and backed the initiative.


Madagascar's new president pledges to fight illegal logging
(02/07/2014) Madagascar's newly elected president Hery Rajaonarimampianina pledged to 'lead the fight' against illegal rosewood logging in the impoverished island nation.


NASA data reveals impact of cyclones on forests in Vietnam, Madagascar
(01/30/2014) Forest disturbance in Madagascar and Vietnam increased significantly in the aftermath of cyclones that hit the countries last year, according to a forest tracking tool developed by a team of NASA researchers.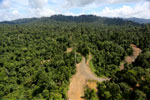 Rainforest news review for 2013
(12/26/2013) 2013 was full of major developments in efforts to understand and protect the world's tropical rainforests. The following is a review of some of the major tropical forest-related news stories for the year. As a review, this post will not cover everything that transpired during 2013 in the world of tropical forests. Please feel free to highlight anything this post missed via the comments section at the bottom. Also please note that this review focuses only on tropical forests.


Conservation Hail Mary works: Mate for near-extinct fish found!
(12/20/2013) Researchers are celebrating after an urgent global search turned up a female mate for a fish that is on the brink of extinction.



Madagascar's most famous lemur facing big threats
(12/18/2013) The ring-tailed lemur (Lemur catta), perhaps the most well-known of Madagascar's endemic animals, is facing a "very high" risk of extinction in the wild. The Madagascar Section of the IUCN Primate Specialist Group reassessed the Red List status of ring-tailed lemurs and upgraded the species from Near-Threatened (2008) to Endangered (2012). Ring-tailed lemurs are facing extinction in some parts of Madagascar because of continued habitat loss, and more recently, species exploitation.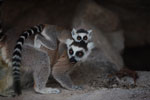 Like ancient humans, some lemurs slumber in caves
(12/05/2013) After playing, feeding, and socializing in trees all day, some ring-tailed lemurs (Lemur catta) take their nightly respite in caves, according to a new study in Madagascar Conservation and Development. The findings are important because this is the first time scientists have ever recorded primates regularly using caves (see video below).


Timber smuggling continues in Madagascar
(11/18/2013) Stocks of rosewood illegally harvested during in the aftermath of Madagascar's 2009 coup are being steadily smuggled off the Indian Ocean island, reports a paper published in the journal MADAGASCAR CONSERVATION & DEVELOPMENT.



Scientists identify 137 protected areas most important for preserving biodiversity
(11/14/2013) Want to save the world's biodiversity from mass extinction? Then make certain to safeguard the 74 sites identified today in a new study in Science. Evaluating 173,000 terrestrial protected areas, scientists pulled out the most important ones for global biodiversity based on the number of threatened mammals, birds, and amphibians found in the parks. In all they identified 137 protected areas (spread over 74 sites as many protected areas were in the same region) in 34 countries as 'irreplaceable.'


Bolivia, Madagascar, China see jump in forest loss
(11/01/2013) Loss of forest cover increased sharply in Bolivia, Madagascar, and Ecuador during the third quarter of 2013, according to an update from NASA scientists.


Sonar used by oil company caused mass whale stranding in Madagascar
(09/25/2013) An oil company's use of a high-frequency mapping sonar system was responsible for a mass whale stranding in northwest Madagascar in 2008, finds a new report.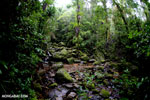 Credits from first African government-backed REDD+ project go on sale
(09/17/2013) Carbon credits generated from protecting thousands of hectares of endangered rainforest in northeastern Madagascar have now been certified for sale, reports the Wildlife Conservation Society (WCS), the project's main organizer. The development represents the first time that credits generated by African government-owned project have been put on the voluntary carbon market.


Scientists outline how to save nearly 70 percent of the world's plant species
(09/05/2013) In 2010 the Convention on Biological Diversity (CBD) pledged to set aside 17 percent of the world's land as protected areas in addition to protecting 60 percent of the world's plant species—through the Global Strategy for Plant Conservation (GSPC)—by 2020. Now a new study in Science finds that the world can achieve both ambitious goals at the same time—if only we protect the right places. Looking at data on over 100,000 flower plants, scientists determined that protecting 17 percent of the world's land (focusing on priority plant areas) would conserve 67 percent of the world's plants.



The evolution of cooperation: communal nests are best for ruffed lemurs
(08/21/2013) Raising young lemurs in communal crèches benefits both mothers and offspring, a new study has found. Andrea Baden and colleagues, of Yale University, studied a group of black-and-white ruffed lemurs (Varecia variegata) in Ranomafana National Park, Madagascar. This is the first study to examine the consequences of different parenting strategies in the ruffed lemur.


Deforestation alerts for Madagascar, DRC, Bolivia during Q2-2013
(08/16/2013) Loss of forest, woodland, and savanna increased sharply in Madagascar, the Democratic Republic of the Congo (DRC), and Bolivia during the second quarter of 2013, reports a new assessment by NASA scientists.


Scientists map plan to save lemurs
(08/14/2013) Primatologists and researchers have devised a wide-ranging plan to protect Madagascar's most endangered lemurs from extinction.



Does size matter (for lemur smarts, that is)?
(08/09/2013) Does size matter? When referring to primate brain size and its relation to social intelligence, scientists at Duke University do not think the answer is a simple yes or no. In the past, scientists have correlated large brain size to large group size. However, in a new study published in PLoS ONE, scientists at Duke University provide evidence that large social networks, rather than large brains, contribute to social cognition, favoring the evolution of social intelligence.


Population of newly discovered lemur in Madagascar down to last 50 individuals (photo)
(07/30/2013) Researchers have discovered a new — and critically endangered — species of lemur on the island of Madagascar. The primate is formally described in the journal Molecular Phylogenetics and Evolution.



Madagascar occupied by humans 2,500 years earlier than previously thought
(07/22/2013) New research indicates that Madagascar was occupied some 2,500 years earlier than previously established. The findings, published in Proceedings of the National Academy of Sciences, suggests a more complex view of the human role in the extinction of the island's mega-fauna. A large body of research holds that village communities began to appear in Madagascar around 500 AD. These were established by people of Indonesian and East African heritage, according to past studies that found linguistic similarities between the Malagasy languages of southeastern Borneo as well as genetic markers tying modern-day Malagasy people to both Indonesia and East Africa. But there have been plenty of hints that people came to the world's third largest island well before 500 AD.


Madagascar's rate of speciation slowing down
(07/16/2013) While Madagascar is famous for its incredible diversity of plants and animals, a new study suggests that the island's rate of speciation has slowed to a crawl.


To protect themselves, lemurs learn alarm calls of other species
(07/11/2013) Solitary lemurs in Madagascar rely on the alarm calls of birds and more social lemurs to evade predators, reports a study published in PLoS ONE.


Five percent of ploughshare tortoise population perishes after botched smuggling attempt
(05/14/2013) In March, two people were caught attempting to smuggle 54 ploughshare tortoises (Astrochelys yniphora) into Thailand. Listed as Critically Endangered, the tortoises' wild population is down to approximately 400-500 animals in its native Madagascar, meaning the smugglers were attempting to move over 10 percent of the total population. Now, the Scientific American blog Extinction Countdown reports that nearly half of the smuggled tortoises have died of unknown causes.


Aquarium launches desperate search to save a species down to 3 individuals
(05/10/2013) Aquarists at ZSL London Zoo have launched a worldwide appeal to find a female mate for a fish species that is believed to have gone extinct in the wild.


Lemur has unexpectedly wide range, diversity of color variations
(05/05/2013) An endangered lemur has a larger range than originally believed but is still at risk due to forest fragmentation and land clearing, reports a study published in the journal Primate Conservation.


Acting Madagascar president breaks pledge not to stand in election
(05/04/2013) President Andry Rajoelina broke his pledge not to run in Madagascar's upcoming presidential election, once again throwing the political stability of the island nation into question.



Hibernating primates: scientists discover three lemur species sleep like bears
(05/02/2013) Bears do it, bats do it, and now we know lemurs do it too: hibernate, that is. Since 2005, scientists have known that the western fat-tailed dwarf lemur hibernates, but a new study in Scientific Reports finds that hibernation is more widespread among lemurs than expected. At least two additional lemur species—Crossley's dwarf lemur and Sibree's dwarf lemur—have been discovered hibernating. So far lemurs, which are only found on the island of Madagascar, are the only primates known to undergo hibernation, raising curious questions about the relationship between lemur hibernation and more well-known deep sleepers.



World's rarest duck on the rebound in Madagascar
(05/01/2013) After a final sighting in 1991, the Madagascar pochard was thought to have vanished for good. But this diving duck was rediscovered in 2006 when a flock of 22 individuals was found on Lake Matsaborimena in northern Madagascar by conservationists during an expedition. Soon after Madagascar pochard eggs were taken and incubated in a joint captive breeding program by Durrell, the Wildfowl & Wetlands Trust (WWT), the Peregrine Fund, Asity Madagascar, and Madagascar government, which recently announced that the population—both captive and wild—has nearly quadrupled.


Madagascar swamped by locust invasion
(04/17/2013) More than 60 percent of Madagascar is suffering from a massive locust infestation that is threatening crops and livestock, potentially increasing risks to native wildlife and forests from hungry farmers, warns the U.N. Food and Agriculture Organization (FAO).


Featured video: in-depth look at Madagascar's Ranomafauna National Park
(04/03/2013) A new film Nosy Maitso takes a look at the people, researchers, and wildlife connected to Madagascar's Ranomafauna National Park. Apart of a World Heritage Site, the park was established in 1991 after a new species of lemur, the golden bamboo lemur (Hapalemur aureus), was discovered in its forests in the 1980s. The golden bamboo lemur is currently listed as Endangered by the IUCN Red List.



Scientists discover new wasp species in a field box from the 1930s (photos)
(04/03/2013) Searching through materials at the Natural History Museum in Paris, Simon van Noort recently came across a long-neglected field box of wasp specimens. Collected 80 years earlier by André Seyrig in Madagascar, the box contained several specimens of wasp in the Paramblynotus genus. The big surprise: wasps in this genus had never before been seen in Madagascar.


Madagascar's chameleons came from African mainland
(03/29/2013) Madagascar's color-changing chameleons originated in Africa and crossed over to the island some 65 million years ago, concludes a study published this week in the Proceedings of the Royal Society B.


2 'giant' yet tiny mouse lemurs identified in Madagascar
(03/27/2013) Scientists have discovered two new species of mouse lemurs in Madagascar, bringing the total number of diminutive primates known to science to 20.


Researchers sequence Aye-aye genome - lemur is more genetically diverse than humans
(03/26/2013) Scientists sequenced the genome of the aye-aye, a bizarre lemur species, for the first time. The research is published in the journal Proceedings of the National Academy of Sciences (PNAS).



Over ten percent of a species' total population found in smuggler's bag
(03/25/2013) On Friday, March 15th Thai authorities arrested a 38-year-old man attempting to collect a bag containing 54 ploughshare tortoises (Astrochelys yniphora) and 21 radiated tortoises (Astrochelys radiata) in Suvarnabhumi International Airport. Found only in Madagascar both species are listed as Critically Endangered and protected under the Convention on International Trade in Endangered Species (CITES), but have become lucrative targets for the black-market pet trade given their scarcity and beauty.


Deforestation in key Madagascar park accelerated after 2009 coup d'etat, finds satellite analysis
(03/18/2013) Deforestation and forest disturbance in Madagascar's largest national park increased significantly less than a year after a coup displaced the country's democratically-elected president in 2009, finds a new study that analyzed forest cover in Masoala National Park.


Dozens of tropical trees awarded new protections at CITES
(03/12/2013) Numerous species of rosewood and ebony from Madagascar, Latin America, and Southeast Asia were granted protection today at the Convention on International Trade in Endangered Species (CITES) in Bangkok, Thailand. The ruling comes one day after CITES granted the first protections ever to sharks and manta rays.



Frogs radio-tracked for first time in Madagascar
(03/01/2013) Researchers have radio-tracked frogs for the first time in Madagascar. Attaching tiny radio transmitters weighing 0.3-0.35 grams (1/100 of an ounce) to 36 rainbow frogs (Scaphiophryne gottlebei), the research team tracked the movement of the colorful frogs through rugged canyons in Madagascar's Isalo Massif. They found that the frogs have a short breeding period that occurs after the first intense rainfall at the start of the rainy season.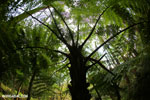 Travel in Madagascar: strange wildlife and stunning landscapes
(02/27/2013) The promise of lemurs, lizards, and a bouquet of biodiversity brought mongabay.com founder Rhett Butler to Madagascar sixteen years ago. He was not disappointed by what he found and was inspired to return, many times to experience the wildlife, landscapes, and people of the dynamic island. In 2004, Rhett founded wildmadagascar.org, a site that highlights the spectacular cultural and biological richness of Madagascar and reports on environmental news for the Indian Ocean island nation.


Madagascar and Malaysian Borneo nature pictures go online
(02/17/2013) Yesterday I posted over 10,000 new photos I took during late 2012 in Madagascar and Sabah, Malaysian Borneo. The pictures are available in the picture section of mongabay.com: travel.mongabay.com.


UK authorizes guns for Madagascar despite threat of lemur extinctions
(01/27/2013) Britain has authorized the export of thousands of guns to Madagascar, according to TanaNews.com, sparking concerns that the firearms could be used for hunting endangered lemurs.



Bloodsucking flies help scientists identify rare, hard-to-find mammals
(01/16/2013) Last year scientists released a study that is likely to revolutionize how conservationists track elusive species. Researchers extracted the recently sucked blood of terrestrial leeches in Vietnam's remote Annamite Mountains and looked at the DNA of what they'd been feeding on: remarkably researchers were able to identify a number of endangered and rarely-seen mammals. In fact two of the species gleaned from these blood-meals had been discovered by scientists as late as the 1990s. In the past, trying to find rare and shy jungle animals required many man hours and a lot of funding. While the increasing use of remote camera traps has allowed scientists to expand their search, DNA sampling from leeches could be the next big step in simplifying (and cheapening) the quest for tracking the world's mammals.


Madagascar's Rajoelina pledges not to run in presidential election
(01/16/2013) Madagascar's president Andry Rajoelina on Tuesday pledged not to run in the presidential election scheduled for May, raising hopes democracy will return to the island nation, which has suffered from stagnation and political turmoil since he took after a 2009 coup.


Photo: Subterranean 'Moby Dick' mermaid lizard discovered in Madagascar
(01/16/2013) An international team of scientists have described a bizarre new species of worm-like lizard that lives underground. Strangely, they named it the 'Moby Dick' mermaid skink.


Troops in Madagascar free miners held hostage by local protesters
(01/16/2013) Troops in Madagascar last weekend freed nearly 200 employees of Rio Tinto who were trapped inside by a mine by local people protesting the project, reports AFP.


Picture gallery of the day: Day geckos
(01/07/2013) Day geckos are the jewels of the gecko family.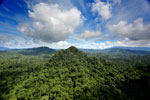 The year in rainforests
(12/31/2012) 2012 was another year of mixed news for the world's tropical forests. This is a look at some of the most significant tropical rainforest-related news stories for 2012. There were many other important stories in 2012 and some were undoubtedly overlooked in this review. If you feel there's something we missed, please feel free to highlight it in the comments section. Also please note that this post focuses only on tropical forests.


Replacing lemur meat with insect protein in Madagascar
(12/12/2012) Poaching is a major threat to endangered lemurs in some parts of Madagascar, but a group has come up with an innovative solution to the problem: replace lemur meat with silkworm pupae, a byproduct of silk production.



Despite small brains, gray mouse lemurs use calls to avoid inbreeding
(12/03/2012) As a small-brained and largely solitary primate, the gray mouse lemur (Microcebus murinus) wasn't supposed to have the capacity to distinguish the calls of its kin calls from other lemurs. However, a new study in BMC Ecology, finds that a female gray mouse lemur is able to determine the mating calls of its father, allowing it avoid inbreeding. The discovery challenges the long-held belief that only large-brained, highly social animal are capable of determining kin from calls.



'Exporting deforestation': China is the kingpin of illegal logging
(11/29/2012) Runaway economic growth comes with costs: in the case of China's economic engine, one of them has been the world's forests. According to a new report by the Environmental Investigation Agency (EIA), China has become the number one importer of illegal wood products from around the world. Illegal logging—which threatens biodiversity, emits carbon, impoverishes local communities, and is often coupled with other crimes—has come under heavy pressure in recent years from the U.S., the EU, and Australia. Each of these has implemented, or will soon implement, new laws that make importing and selling illegal wood products domestic crimes. However, China's unwillingness to tackle its vast appetite for illegal timber means the trade continues to decimate forests worldwide.


Greater bamboo lemur removed from 'most endangered primates' list
(11/13/2012) Madagascar's greater bamboo lemur has been removed from the list of the world's 25 most endangered primates after conservationists discovered previously unknown populations of the rare creature, according to the Aspinall Foundation, a charity that set in motion a species survival plan for the lemur.


Picture of the day: a bizarre baby bird with oral 'fingerprints'
(10/25/2012) The crested coua (Coua cristata) is native to island of Madagascar. Unlike much of Madagascar's wildlife, the crested coua is not considered threatened with extinction, but is listed as Least Concern by the IUCN Red List. There are around nine species of coua in the world, all found in Madagascar; the unique birds belong to the cuckoo family.


Smuggling of illegally logged rosewood in Madagascar continues, alleges report
(10/25/2012) Timber traders in Madagascar are smuggling illegally logged rosewood despite an official export ban, alleges a new report published by a Malagasy researcher.



The world's 25 most endangered primates: nearly a quarter in Madagascar
(10/15/2012) A coalition of conservation groups released the biannual Top 25 Primates list today, including nine species not appearing on the 2010 list, at the UN's Convention on Biological Diversity (CBD) in Hyderabad, India. Madagascar tops the list as home to the most threatened primates, including six on the list. Following Madagascar, Vietnam contains five, Indonesia three, and Brazil two. In all, over half (54 percent) of the world's primates, which have been evaluated, are considered threatened by the IUCN Red List.



Coral diversity off Madagascar among the world's highest
(09/24/2012) The western Indian Ocean, especially the waters between Madagascar and mainland Africa, may be among the world's most biodiverse for coral species, according to a new study in PLOS ONE. Conducting dive surveys in the region for nearly a decade, David Obura with the Coastal Oceans Research and Development in the Indian Ocean (CORDIO) identified 369 coral species in the western Indian Ocean and predicts there may be nearly another 100 unidentified. If so, this would make the region as biodiverse as the Great Barrier Reef, but still behind the Coral Triangle which has over 600 species.


Deforestation is killing Madagascar's coral reefs
(09/05/2012) Sediment carried by rivers draining deforested areas in Madagascar is smothering local coral reefs, increasing the incidence of disease and suppressing growth, report new studies.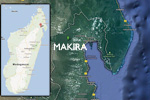 Madagascar gets biggest protected area
(08/17/2012) Madagascar officially designated its largest protected area in a region renowned for its tropical rainforests and rich diversity of wildlife, including 20 species of lemurs, reports the Wildlife Conservation Society (WCS), a group that was instrumental in establishing the park. Makira Natural Park covers some 372,470 hectares of forest in northeastern Madagascar, the most biodiverse part of the island nation.


Gibson Guitar to pay $300,000 for violating Lacey Act with illegal timber imports from Madagascar
(08/06/2012) Gibson Guitar Company has avoided criminal prosecution under the Lacey Act — a law that aims to curb illegal logging abroad — by settling with the Department of Justice.


Past climate change reduced lemur population in Madagascar
(07/24/2012) Climate change that took place 4,000-10,000 years ago may have contributed to the endangered status of one of Madagascar's rarest lemurs by reducing the extent of its habitat, argues a new study published in the journal Proceedings of the Natural Academy of Sciences.


New Madagascar rainforest park invaded by sapphire miners
(07/23/2012) One of Madagascar's newest national parks has been invaded by miners following the discovery of sapphires, reports AFP.


Cute animal picture of the day: baby bamboo lemur
(07/16/2012) Greater bamboo lemurs (Prolemur simus) are one of over a hundred lemur species found only on the island of Madagascar. Listed as Critically Endangered, there are only around 500 individuals known in the wild, making them one of the world's most imperiled primate species. A new baby was recently born in captivity in the UK's Port Lympne Wild Animal Park.



91% of Madagascar's lemurs threatened with extinction
(07/13/2012) 94 of the world's 103 lemur species are at risk of extinction according to a new assessment by the International Union for Conservation of Nature (IUCN) released by the group's Species Survival Commission during a workshop this week. Lemurs, a group of primates that is endemic to the island of Madagascar, are threatened by habitat destruction and poaching for the bushmeat trade.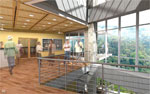 Cutting-edge research center opens in Madagascar rainforest
(07/03/2012) A high-tech research center opened today on the edge of a rainforest in Madagascar. The facility, known as the Centre Valbio, will support efforts to study Madagascar's unique wildlife, deliver health care to impoverished communities, and understand links between the environment and the rural economy. The project was led by Patricia Wright, a Stony Brook University biologist whose 1986 discovery of the golden bamboo lemur led to the protection of a large swathe of rainforest known as Ranomafana.


Picture: baby black lemur born at Howletts Wild Animal Park
(07/02/2012) Howletts Wild Animal Park in near Canterbury in Britain released photos of an infant black lemur born recently.


Photos: Mama lemurs with babies
(06/01/2012) Two baby lemurs were put on display this week in the Madagascar! exhibit at the Wildlife Conservation Society's Bronx Zoo.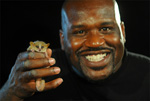 Picture: Shaq poses with tiny lemur
(05/18/2012) One of the world's most recognizable professional basketball players has used his stature to highlight one of the world's smallest primates: the mouse lemur from Madagascar. Shaquille O'Neal, a NBA legend who retired last year and earned a doctorate degree in education from Barry University earlier this year, posed with a mouse lemur at Zoo Miami in March. The diminutive primate, which measures only five inches and weighs two ounces, was dwarfed by the 7'1" 325-pound Shaq.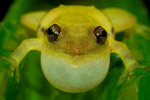 Mad frog bonanza: up to 36 new frogs discovered in tiny Madagascar forest
(04/19/2012) A forest less than half the size of Manhattan sports an astounding number of frogs, according to a new paper in Biodiversity Conservation. Two surveys of Madagascar's Betampona Nature Reserve, which covers 2,228 hectares, has uncovered 76 unique frogs, 36 of which may be new to science. To put this in perspective: the U.S. and Canada combined contain just 88 frog species, but cover an area nearly a million times larger than Betampona.


Baby boom: 18 of the world's rarest duck born
(04/06/2012) The global population of one of the world's rarest birds just increased 43 percent. The Durrell Wildlife Conservation Trust is reporting that 18 Madagascar pochards — the world's rarest duck — hatched and are now being reared at a facility in Madagascar. The breeding program is a joint effort between Durrell, the Wildfowl & Wetlands Trust (WWT), the Peregrine Fund, Asity Madagascar and the Government of Madagascar.


Madagascar originally colonized by small group of Indonesians
(03/22/2012) Madagascar was first colonized by a small group of Indonesians who crossed the Indian Ocean some 1,200 years ago, reports a new study published in the journal Proceedings of the Royal Society B.


Appeal for help as death toll in Madagascar tops 110 from tropical storm
(03/11/2012) More than 110 are dead and 330,000 homeless after two tropical storms battered Madagascar over the past month, says the island nation's disaster management agency.


Madagascar lifts rosewood ban. Or does it?
(03/01/2012) Madagascar's transitional government lifted its ban on exports of rosewood, ebony and other precious wood last month, but the decision is now under review due to concerns about foreign dominance of the trade, say local sources. Environmentalists are nonetheless concerned that a loosening of restrictions on old-growth timber could ignite another logging frenzy in the country's rainforest parks, which are renowned for their biodiversity.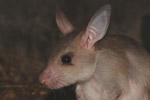 Cute baby animal photos of the day: twin Malagasy giant jumping rats born at London Zoo
(02/28/2012) Twin Malagasy giant jumping rats (Hypogeomys antimena) were born in the Zoological Society of London's (ZSL) zoo in London this month. Found only on the island of Madagascar, also home to the world's lemurs, these rodents are the biggest on the island. These large rodents take the ecological place of rabbits in Madagascar, but unlike other rodents they form lifelong monogamous pairs and reproduce very slowly.


Scientists recommend marine protected areas for Madagascar
(02/27/2012) With the government of Madagascar planning to increase marine protected areas by one million hectares, a group of researchers have laid out flexible recommendations in a new study in the open access journal PLoS ONE. The researchers employed four different analyses in order to highlight a number of different conservation options, however the different analyses pointed to the need to protect certain areas with high biodiversity, including the Barren Islands' reefs, the reefs of Juan de Nova, the Banc de Leven, and the shallow banks of the Cap Sainte Marie.


Madagascar - The Last Inheritor of Gondwana: Documentary Review
(02/20/2012) Madagascar split from the supercontinent of Gondwana about 150 million years ago. As a result, most of the living creatures in Madagascar are unique to the ecosystems in the island. Madagascar: The Last Inheritor of Gondwana is a documentary that does an excellent job of showing Madagascar's magnificent biodiversity, but falls short in delivering Madagascar's "clear" and "urgent" message.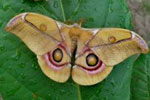 Innovative conservation: wild silk, endangered species, and poverty in Madagascar
(02/20/2012) For anyone who works in conservation in Madagascar, confronting the complex difficulties of widespread poverty is a part of the job. But with the wealth of Madagascar's wildlife rapidly diminishing— such as lemurs, miniature chameleons, and hedgehog-looking tenrecs found no-where else in the world—the island-nation has become a testing ground for innovative conservation programs that focus on tackling entrenched poverty to save dwindling species and degraded places. The local NGO, the Madagascar Organization of Silk Workers or SEPALI, along with its U.S. partner Conservation through Poverty Alleviation (CPALI), is one such innovative program. In order to alleviate local pressure on the newly-established Makira Protected Area, SEPALI is aiding local farmers in artisanal silk production from endemic moths. The program uses Madagascar's famed wildlife to help create more economically stable communities.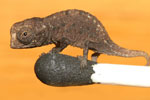 Photo: World's smallest chameleon discovered in Madagascar
(02/15/2012) Scientists have discovered four new species of super-tiny chameleons in Madagascar, according to a new paper in PLoS ONE. The smallest of the new species, Brookesia micra, is found only on the small island of Nosy Hara and has been dubbed the smallest chameleon in the world, measuring from nose to tail 29 millimeters (1.14 inches) at its largest. Scientists believe it represents a notable example of island dwarfism.


Scientists create high resolution, 3D maps of forests in Madagascar
(02/15/2012) A team of scientists has created the first high resolution maps of remote forests in Madagascar. The effort, which is written up in the journal Carbon Balance and Management, will help more accurately register the amount of carbon stored in Madagascar's forests, potentially giving the impoverished country access to carbon-based finance under the proposed REDD (Reducing Emissions from Deforestation and forest Degradation) program.


Caution urged in sale of Madagascar's illegal timber stockpiles
(02/03/2012) Confiscated timber stocks in Madagascar must be managed in a "transparent manner" to deter future illegal logging and boosting demand for endangered rainforest timber, says a letter published by a coalition of NGOs.



Photos of the day: a celebration of wetlands (for World Wetlands Day)
(02/02/2012) Forget the groundhogs, February 2nd is also World Wetland Day, commemorating the historic convention of wetlands in Ramsar, Iran in 1971. The Ramsar Treaty was an international agreement meant to address the loss and degradation of wetlands worldwide.


Frog perfume? Madagascar frogs communicate via airborne pheromones
(01/25/2012) Researchers have found that some frogs in Madagascar communicate by more than just sound and sight: they create distinct airborne pheromones, which are secreted chemicals used for communicating with others. A paper published in Angewandte Chemie International Edition relates that some male members of the Mantellinae family in Madagascar use large glands on their inner thighs to produce airborne pheromones. Interestingly, the pheromones are structurally similar to those produced by insects. Scientists have identified frogs producing water-borne pheromones before, but this is the first instance of airborne.


Featured video: music in Madagascar to protest illegal logging
(01/22/2012) A new video highlights the plight of Madagascar's protected tropical forests, which are falling prey to illegal logging and foreign contractors. Featuring Razia Said, Malagasy singer and songwriter, the video shows concerts to raise awareness about illegal logging, especially near Maosala National Park.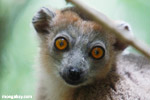 National Association of Music Merchants does 'disservice' to members by misleading them on illegal logging law, says letter
(01/19/2012) The National Association of Music Merchants is doing a 'disservice' to its members by misrepresenting the provisions and spirit of the Lacey Act, a law that aims to curb illegal logging abroad, states a letter published by a coalition of environmental groups. The letter, issued Thursday, urges the National Association of Music Merchants to reconsider its support for the RELIEF Act (HR 3210), introduced by Representatives Marsha Blackburn (R-TN), Mary Bono Mack (R-CA), and Jim Cooper (D-TN) last October. The RELIEF Act would weaken key provisions of the Lacey Act aimed to ensure that illegally sourced wood products aren't imported into the United States.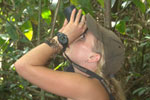 How lemurs fight climate change
(01/09/2012) Kara Moses may have never become a biologist if not for a coin toss. The coin, which came up heads and decided Moses' direction in college, has led her on a sinuous path from studying lemurs in captivity to environmental writing, and back to lemurs, only this time tracking them in their natural habitat. Her recent research on ruffed lemurs is attracting attention for documenting the seed dispersal capabilities of Critically Endangered ruffed lemurs as well as theorizing connections between Madagascar's lemurs and the carbon storage capacity of its forests. Focusing on the black-and-white ruffed lemur's (Varecia variegata) ecological role as a seed disperser—animals that play a major role in spreading a plant's seeds far-and-wide—Moses suggests that not only do the lemurs disperse key tree species, but they could be instrumental in dispersing big species that store large amounts of carbon.


Photo: Tiny lemur discovered in Madagascar forest
(01/08/2012) A new species of mouse lemur has been discovered in eastern Madagascar, report researchers from Germany. The species is described in a recent issue of the journal Primates.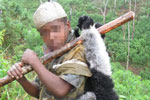 Cultural shifts in Madagascar drive lemur-killing
(12/15/2011) Conservationists have often found that some cultural norms, religious beliefs, and taboos play a role in holding back traditional peoples from overusing their environment. Examples of such beliefs include days wherein one cannot hunt or fish, or certain species or regions that are off limits to exploitation. But the influence of the modern world can rapidly extinguish such beliefs, sometimes for the better, in other cases not. In many parts of Madagascar, lemurs are off the menu. These primates, found only in Madagascar, play a big role in Malagasy 'fady' or taboo-related folk stories: lemurs are protectors and, in some cases, even relatives. However, according to a new paper in PLoS ONE an influx of migrants, widespread poverty, lack domestic meat, and poor law enforcement has caused a sudden rise in eating lemurs, many of which are already near-extinction due to habitat loss.




Madagascar tree diversity among the highest worldwide
(12/12/2011) In terms of biodiversity, the hugely imperiled forests of Madagascar may be among the world's richest. Researchers estimate that the island off the coast of Africa is home to at least 10,000 tree and shrub species with over 90 percent of them found no-where else in the world. With little baseline data collected on Madagascar's ecosystems, a new study, the first ever of tree diversity in Madagascar lowland rainforests, hopes to begin the process. Published in mongabay.com's open access journal Tropical Conservation Science, the new study surveyed tree species in eastern Madagascar's Betampona Special Reserve.


Forgoing bushmeat hunting has health toll in Madagascar, says study
(11/22/2011) Conservationists shouldn't overlook the detrimental health impacts of shifting local populations away from subsistence bushmeat hunting, says a new study.



Critically Endangered lemurs disperse seeds, store carbon
(11/13/2011) Many tropical plants depend on other species to carry their progeny far-and-wide. Scientists are just beginning to unravel this phenomenon, known as seed dispersal, which is instrumental in supporting the diversity and richness of tropical forests. Researchers have identified a number of animal seed dispersers including birds, rodents, monkeys, elephants, and even fish. Now a new study in the Journal of Tropical Ecology adds another seed disperser to that list: the Critically Endangered black-and-white ruffed lemur (Varecia variegata). Capable of dispersing big tree species, the black-and-white ruffed lemur may even play a big role in carbon sequestration.


Photos: 40% of Madagascar's reptiles at risk of extinction
(11/10/2011) 40 percent of Madagascar's terrestrial reptiles are threatened with extinction due to habitat loss and over-collection for the pet trade, reports the International Union for Conservation of Nature (IUCN) in its latest update of the Red List of Threatened Species.


Madagascar interim president: sell rosewood stocks
(11/09/2011) Madagascar should sell its stocks of illegally logged rainforest timber, Madagascar's interim leader Andry Rajoelina told the BBC in an interview.


Animal picture of the day: crowned lemur and baby
(11/06/2011) Like all of the world's hundred-plus lemur species, the crowned lemur (Eulemur coronatus) is only found on the island of Madagascar. They inhabit the northern tip of the island.


Poor in Madagascar see fish plundered for foreign consumption
(10/11/2011) A new study warns that overfishing could exacerbate poverty and political stability in one of the world's poorest nations: Madagascar. According to the recent study by the University of British Columbia's Sea Around Us Project and Malagasy NGO Blue Ventures, fish catches in the African island-nation from 1950 to 2008 are actually double the official numbers, with foreign wealthy nations currently taking half the haul.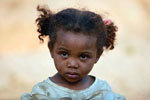 Tea Party rallies in favor of Gibson Guitar, ignores reasons instrument-maker is under investigation
(10/10/2011) This weekend around 500 people showed up for a rally and concert in Nashville, Tennessee. The rally was in support of Gibson Guitars, a US-company currently under investigation for allegedly importing illegally logged wood into the country, an action that breaks a recent bipartisan amendment to the Lacey Act. While the Tea Party-affiliated groups that held the rally were expressing frustration with perceived over-regulation by the federal government, the issue at stake—a global effort to help stem illegal logging—was actually overlooked by the organizers.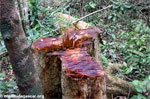 Tea party versus Madagascar's forests
(10/02/2011) The Tea Party and the African island-nation of Madagascar are having dueling concerts over the issue of illegal logging, reports the Associated Press. A concert in Madagascar over the weekend was meant to highlight the problem of illegal deforestation in one of the world's poorest countries. Meanwhile the Tea Party is holding a rally and concert on October 8th to support Gibson Guitar, a musical instruments company currently under investigation for breaking US law by allegedly purchasing illegally logged wood products from Madagascar.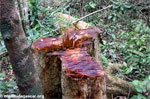 Madagascar asks CITES to regulate rosewood and ebony
(09/29/2011) Following a logging crisis in 2009 where a number of Madagascar's remaining forests were illegally cut, the African nation has turned to the Convention on International Trade in Endangered Species of Wild Fauna and Flora (CITES) to help regulate 91 species of rosewood and ebony. "Regulating trade in these high-value timber species under CITES will help ensure that the benefits of trade flow to local people and it will also serve the global community by helping conserve these species, which will be to the benefit of entire ecosystems."


Background: the Lacey Act and the Fish & Wildlife Service raid on Gibson Guitars
(09/02/2011) On 24 August 2011, agents of the Fish & Wildlife Service (FWS) raided Gibson Guitar facilities in Nashville and Memphis, Tennessee, seizing ebony and rosewood material, guitars and guitar parts as evidence of suspected violation(s) of the U.S. Lacey Act. The Lacey Act is a long-standing anti-trafficking statute which prohibits commerce of illegally-sourced wildlife, plants and wood products from either the U.S. or other countries.


Could "wood bank" ease Madagascar's illegal logging problem?
(08/25/2011) ith illegal timber stocks continuing to build due ongoing logging in its rainforest parks and under pressure from powerful timber traders, Madagascar's political leaders are debating a plan to lift a ban on precious wood exports. Environmentalists fear the move — without proper safeguards — could effectively reward illegal loggers and drive further exploitation the country's remaining forests.


Madagascar may authorize exports of illegally-logged rosewood
(08/22/2011) A meeting scheduled for August 25th between rosewood traders, the Ministry of Forest and Environment, and other government officials may determine the fate of tens of millions of dollars' worth of rosewood illegally logged from Madagascar's rainforests parks.


Animal picture of the day: ninja lemurs
(08/14/2011) On the ground Verreaux's Sifaka (Propithecus verreauxi) move in sideways jumps giving them the appearance of elegant dancers or dangerous ninjas.


Featured video: Trouble in Lemur Land
(08/08/2011) A new film, Trouble in Lemur Land, showcases the Critically Endangered silky sifaka (Propithecus candidus). With only some 300 silky sifaka's surviving in the wild, this large and distinct lemur is considered one of the top 25 most endangered primates in the world.


Little-known animal picture of the day: the velvet asity
(08/04/2011) The velvet asity is a small bird endemic to Madagascar. The species is a part of a family of birds that only includes four species, all native to Madagascar.


Picture of the day: beach on a tropical island paradise
(07/30/2011) Beach on Nosy Mangabe, a tropical island paradise for wildlife enthusiasts.


Animal picture of the day: baby Nile crocodile
(07/26/2011) One day this baby Nile crocodile could reach 20 feet (6 meters) long. Nile crocodiles (Crocodylus niloticus) range throughout sub-Saharan Africa and even make their home on the island of Madagascar.


Another rosewood bust in Madagascar
(07/12/2011) Authorities in Madagascar confiscated six containers of rosewood logs worth $360,000 - $600,000 at a port in the northwestern part of the country, reports AFP.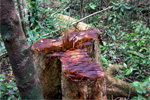 Endangered species trafficking: What did Gibson Guitar know?
(07/07/2011) A motion filed last month by the U.S. Department of Justice alleges Gibson Guitar knew it was trafficking in endangered timber when it was busted by the U.S. Fish and Wildlife Service in November 2009, reports the Environmental Investigation Agency (EIA).


New rosewood scandal in Madagascar
(07/01/2011) Customs officials in Madagascar threatened to go on strike Monday if the country's Transition Authority does not reveal the owner of a shipment of six containers of rosewood seized in Mauritius.


World Bank loans Madagascar $52m to address environmental crisis
(06/22/2011) The World Bank has approved a $52 million loan to bolster conservation efforts in Madagascar, which have suffered from a collapse in funding and governance in the aftermath of a 2009 military coup, reports Reuters.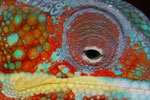 Endangered Madagascar wildlife on sale in Thailand
(06/19/2011) Conservation group TRAFFIC uncovered nearly 600 Madagascar reptiles and amphibians on sale in Thai markets, including endangered species and those banned for sale by the Convention on International Trade in Endangered Species of Wild Fauna and Flora (CITES). The animals, representing 24 reptiles species and 9 amphibians, are being sold for the international pet trade. "We know there is a significant ongoing illegal trade in protected species from Madagascar, mainly destined for Asia, which has been exacerbated by the current political situation in the country leading to weaker enforcement of existing laws and safeguarding of protected areas," says Richard Hughes, WWF's Representative in Madagascar.


Photos: 600 new species discovered in Madagascar since 1999
(06/06/2011) More than 600 species of plants and animals have been described in Madagascar over the past decade, reiterating the position of Indian Ocean island as one of the world's top biodiversity hotspots, says a new report issued today by WWF.


Government cracks down on illegal logging in Madagascar
(06/02/2011) Authorities in Madagascar seized roughly a thousand logs during an ongoing operation in the northeastern part of the country, which has been besieged by illegal logging, reports l'Express de Madagascar. Seven people were arrested.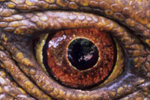 Photos: the top ten new species discovered in 2010
(05/23/2011) If we had to characterize our understanding of life on Earth as either ignorant or knowledgeable, the former would be most correct. In 250 years of rigorous taxonomic work researchers have cataloged nearly two million species, however scientists estimate the total number of species on Earth is at least five million and perhaps up to a hundred million. This means every year thousands of new species are discovered by researchers, and from these thousands, the International Institute for Species Exploration at Arizona State University selects ten especially notable new species.


Illegal rosewood bust in Madagascar
(04/28/2011) Authorities in Madagascar seized several trucks carrying illegally logged rosewood timber, reports Asity Madagascar, a conservation group that aided in the seizure.


Richard Branson's pet lemur project won't help save wildlife in Madagascar
(04/19/2011) Richard Branson's plan to introduce lemurs on one of his private islands in the Caribbean is a terrible idea if his aim is really to protect the primates from extinction. Beyond the much-discussed ecological impact of bringing in non-native primates, Branson's scheme risks undermining conservation efforts where lemurs actually exist in the wild: Madagascar.


Forest Governance Measuring Tools within Collaborative Governance of Tropical Landscapes: Book Review
(04/19/2011) Conservation projects at the landscape level in the tropics often require collaborative governance because there are many factors that may be involved with conserving and enhancing the ecosystem services with a landscape-based project. Yet as eloquently described in Collaborative Governance of Tropical Landscapes, significant issues remain in designing and implementing effective collaborative governance models for tropical landscapes.


New population of nearly extinct Madagascar chameleon discovered
(03/01/2011) Scientists have discovered a new population of the Belalanda chameleon (Furcifer belalandaensis), boosting hope for one of Madagascar's rarest chameleons.


Image: new bird discovered in Madagascar
(02/24/2011) The rich and unique biodiversity of Madagascar has a new member: a forest dwelling bird in the rail family, dubbed Mentocrex beankaensis. In 2009 US and Malaygasy scientists conducted a survey in Madagascar's dry Beanka Forest. They discovered several new species, of which the new rail is the first to be described.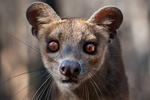 Saving Madagascar's largest carnivorous mammal: the fossa
(02/17/2011) Madagascar is a land of wonders: dancing lemurs, thumbnail-sized chameleons, the long-fingered aye-aye, great baobab trees, and the mighty fossa. Wait—what? What's a fossa? It's true that when people think of Madagascar rarely do they think of its top predator, the fossa—even if they are one of the few who actually recognizes the animal. While the fossa gained a little notice in the first Madagascar film by DreamWorks, its role in the film was overshadowed by the lemurs. In this case, art imitates life: in conservation and research this feline-like predator has long lived in the shadow of its prey, the lemur. Even scientists are not certain what to do with the fossa: studies have shown that it's not quite a cat and not quite a mongoose and so the species—and its few Malagasy relatives—have been placed in their own family, the Eupleridae, of which the fossa (Cryptoprocta ferox) is the biggest. But if this is the first you've heard of such matter, don't feel bad: one of the world's only fossa-researchers, Mia-Lana Lührs also stumbled on the species.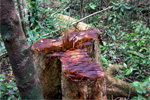 Environmental groups deny 'conspiracy' claims by Madagascar's acting leader
(02/03/2011) Two environmental groups investigating the illegal rosewood trade flatly rejected claims by Madagascar's acting president that they are involved in a campaign to undermine his rule. Andry Rajoelina, the former mayor of the capital city of Antananarivo who assumed power following civil strife in March 2009, claimed last month in an interview with Revue de l'océan Indien that the London-based Global Witness and the Washington D.C.-based Environmental Investigation Agency were attempting to sully his image through their undercover investigation into the rosewood trade. The groups found evidence suggesting that Rajoelina was involved in rosewood trafficking. The evidence included video footage of Chinese rosewood traders claiming to deal directly with Rajoelina.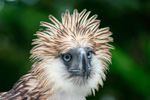 From Cambodia to California: the world's top 10 most threatened forests
(02/02/2011) Growing populations, expanding agriculture, commodities such as palm oil and paper, logging, urban sprawl, mining, and other human impacts have pushed many of the world's great forests to the brink. Yet scientists, environmentalists, and even some policymakers increasingly warn that forests are worth more standing than felled. They argue that by safeguarding vulnerable biodiversity, sequestering carbon, controlling erosion, and providing fresh water, forests provide services to humanity, not to mention the unquantifiable importance of having wild places in an increasingly human-modified world. Still, the decline of the world's forests continues: the FAO estimating that around 10 million hectares of tropical forest are lost every year. Of course, some of these forests are more imperiled than others, and a new analysis by Conservation International (CI) has catalogued the world's 10 most threatened forests.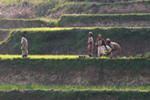 'Land grab' fears in Africa legitimate
(01/31/2011) A new report by the International Institute for Environment and Development (IIED) has found that recent large-scale land deals in Africa are likely to provide scant benefit to some of the world's poorest and most famine-prone nations and will probably create new social and environmental problems. Analyzing 12 recent land leasing contracts investigators found a number of concerns, including contracts that are only a few pages long, exclusion of local people, and in one case actually giving land away for free. Many of the contracts last for 100 years, threatening to separate local communities from the land they live on indefinitely. "Most contracts for large-scale land deals in Africa are negotiated in secret," explains report author Lorenzo Cotula in a press release. "Only rarely do local landholders have a say in those negotiations and few contracts are publicly available after they have been signed."


New hope for rare lemurs in Madagascar
(01/20/2011) A survey of a remote forest area in Madagascar turned up seven new groups of silky sifaka, a critically endangered lemur threatened by habitat destruction. The finding raises hope that the species—which is listed as one of the world's 25 most endangered primates—is surviving in Marojejy National Park despite an outbreak of illegal rosewood logging in 2009 and 2010.


Burning up biodiversity: forest fires increase in Madagascar
(01/10/2011) The number of fires burning in and around forests in the northeastern part of Madagascar increased during the 2010 burning season relative the the year before, according to analysis of NASA data by WildMadagascar.org / Mongabay.com. The rise in burning corresponds to an especially dry year and continued illegal logging of the region's biologically-rich rainforests.


Lemur poaching continues in Madagascar [warning: graphic pictures]
(01/03/2011) A lemur poacher was intercepted with 32 dead lemurs on New Year's Eve in Madagascar's northeastern town of Vohemar, suggesting that killing of lemurs for the commercial bushmeat trade continues on the island nation, reports Fanamby, a Madagascar-based conservation group.


Satellite data reveals fires in region plagued by illegal logging in Madagascar
(12/27/2010) New satellite data reveals active burning in Sava, a region in Madagascar that has been ravaged by illegal logging for rosewood and other valuable rainforest timber.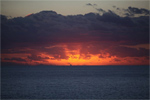 Top 10 Environmental Stories of 2010
(12/20/2010) Below is a quick review of some of the biggest environmental stories of 2010: Climate change rears it ugly head; Oil spill in the Gulf; Agreement to save global biodiversity; Illegal logging crisis in Madagascar; REDD kicks off in Indonesia; Brazil deforestation falls to its lowest level; Hungary's red sludge; Nestle caves to social media activists; New mammals galore' and Global climate framework back on the table?


Local rules trump regulations imposed by outsiders in Madagascar
(12/19/2010) Unwritten rules and social norms can be an effective means to manage protected areas in rural parts of Madagascar, reports a new study published in mongabay.com's open access journal Tropical Conservation Science.


Picture: New lemur in Madagascar
(12/15/2010) Researchers have discovered a new species of lemur in Madagascar.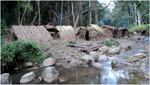 Extensive logging, lemur hunting in Madagascar national park despite moratorium
(11/16/2010) A biological survey in Northeastern Madagascar has turned up evidence of extensive logging in Masoala National Park, a UNESCO World Heritage Site renowned for its biologically-rich rainforest. The findings suggest that harvesting of valuable hardwoods—including rosewood, ebony, and palissander—continues despite an official ban on the logging and export of timber.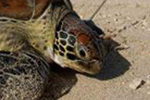 Thousands of marine turtles slaughtered in Madagascar for food
(11/14/2010) Over 10,000 marine turtles are being killed in one region of Madagascar for food every year, according to a new study in Animal Conservation. Although fishing for marine turtles is illegal, it has not stopped local artisanal fishermen from pursuing four different endangered marine turtle species. "We conducted this study because we know this small-scale, artisanal fishing is going on despite it being illegal to catch turtles under Malagasy law," Annette Broderick, from the Center for Ecology and Conservation (Cornwall) at the University of Exeter, said in a press release. "Because turtles are an endangered species, it's important for us to know what's going on in the region so we can work with the local community to find a sustainable way forward."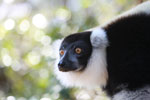 Local efforts block attempt to ship illegal rosewood from Madagascar
(11/10/2010) Authorities in Madagascar successfully blocked an attempt to ship illegally logged rosewood from the port of Vohemar over the weekend, according to local reports. The incident, while isolated, suggests citizens, the Waters and Forests Administration, local media, and shipping companies are having an impact on slowing the rosewood trade that has devastated Madagascar's rainforest parks, wildlife, and rural communities.


Madagascar's president linked to illegal logging (video)
(11/05/2010) Video released by the Environmental Investigation Agency reveals Chinese rosewood traders have direct links to Madagascar's President Andry Rajoelina, who seized power during a March 2009 military coup.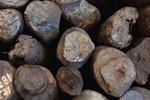 The $1M bed: why Madagascar's rainforests are being destroyed
(10/26/2010) Consumer demand for rosewood furniture and musical instruments is driving illegal logging in Madagascar's national parks, endangering wildlife and undermining local community livelihoods, according to a new report from the Environmental Investigation Agency (EIA) and Global Witness. The report, based on more than a year of investigations, shows that Madagascar's valuable hardwoods—including ebony, pallisander, and rosewood—are being illegally harvested from rainforest parks and trafficked to Asia, Europe, and the United States. The vast majority of timber however ends up in China, where it is converted into luxury furniture.


Video: New carnivorous swamp beast discovered in Madagascar
(10/15/2010) Mongabay.com's Rhett Butler provides an update on the forest news for the week ending October 15, 2010.


Flickr reveals longest whale migration
(10/14/2010) Communal photo sharing site, Flickr, has allowed researchers to discover the longest migration by a whale yet recorded. Ten years ago a female humpback whale swam from Brazil to Madagascar, covering around 6,090 miles (9,800 kilometers). The migration tops the previous record by 2,485 miles (4,000 kilometers). Not only is this a record for a whale, it's a record for non-human mammals.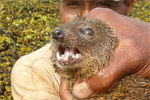 Picture: unknown carnivore discovered in Madagascar lake
(10/10/2010) Researchers have identified a previously unknown species of carnivore lurking in one of the world's most endangered lakes. Durrell's vontsira (Salanoia durrelli), named in honor of the late conservationist and writer Gerald Durrell, was first photographed swimming in Madagascar's Lake Alaotra in 2004. Subsequent surveys by scientists at the the Durrell Wildlife Conservation Trust, the Natural History Museum, London, Nature Heritage, Jersey, and Conservation International confirmed the mongoose-like creature was indeed a new species.


1000 rare tortoises poached each week in Madagascar
(09/30/2010) One thousand endangered tortoises are being illegally collected each week in southern Madagascar, reports WWF.


Photos: New species spins the world's strongest and largest spider web
(09/20/2010) A newly discovered species of spider in Madagascar spins the world's longest web, report scientists writing in the Journal of Arachnology and PLoS ONE.


Crystal-clear river becomes first in Madagascar to wins Ramsar protected status
(09/20/2010) The Nosivolo river and its watershed has become Madagascar's first Ramsar site, reports Conservation International.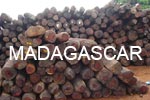 Police in eastern Madagascar arrest foreign journalist investigating illegal timber trafficking
(09/17/2010) Authorities in eastern Madagascar arrested a foreign journalist investigating illegal rosewood trafficking. The arrest, which took place twelve days ago, comes as the central government claims to be cracking down on the illicit rosewood trade. The journalist, whose name and nationality is being withheld to protect his identity, had his camera equipment confiscated by the police in Maroantsetra, a town that is the gateway to Masoala National Park, where much of the rosewood logging is occurring. The police, accompanied by rosewood traffickers, forced the journalist to delete images of timber stockpiles from his camera. The journalist and his guide were then released.


Despite pledge to crack down, illegal logging continues in Madagascar's rainforest parks
(09/06/2010) Despite government assurances that it would crack down on the rosewood trade, illegal logging continues in Madagascar's rainforest parks, according to new information provided by sources on the ground.


Photos: 'Tarzan' chameleon discovered in Madagascar
(08/31/2010) Scientists have discovered a new species of chameleon in a small block of rainforest in Madagascar.



Logging crisis pushes Madagascar's forests on to UNESCO's Danger List
(08/01/2010) UNESCO's World Heritage committee has added Madagascar's unique tropical forests to its Danger List of threatened ecosystems. The move comes following a drawn-out illegal logging crisis that has seen loggers and traders infiltrating the island-nation's national parks for rosewood. Bushmeat hunting of lemurs and other rare species also accompanied the crisis.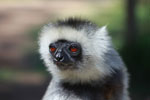 If Madagascar's biodiversity is to be saved, international community must step up
(07/27/2010) The international community's boycott of environmental aid to Madagascar is imperiling the island's unique and endangered wildlife, according to a new report commissioned by the US Agency for International Development's (USAID) Bureau of Africa. International aid to the desperately poor nation slowed to a trickle after a government coup last year, including a halt on environmental funding from the US government. Since then the island has experienced an environmental crisis: illegal loggers and traders began decimating protected areas, and the wildlife trade, including hunting endangered lemurs for bushmeat, took off.


The illegal logging cycle in Madagascar
(06/23/2010) The latest issue of the journal Madagascar Conservation & Development provides a comprehensive look into Madagascar's illegal logging trade, which has generated more than $200 million for a small group of individuals over the past year. The trade, which spikes just prior to national elections and may be a source of funds for ruling politicians, has taken a heavy toll on the lowland rainforests of Madagascar, with targeted species now at risk of extinction.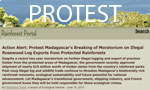 Rainforest slaughter continues in Madagascar despite "ban" on timber exports
(06/21/2010) New eyewitness reports indicate continued logging of Madagascar's Masoala National Park for rosewood despite a government "moratorium" on logging and timber exports. A source near Marofinaritra, a town between Masoala and Antalaha, reports heavy night-time movement of trucks carrying illegally logged timber from the park. The wood is believed to be destined for Antalaha, a regional hub for the rosewood trade.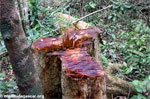 Madagascar resumes shipments of illegally logged timber despite moratorium
(06/10/2010) Albert Camille Vital, Madagascar's Prime Minister under the regime that seized power during a coup on the Indian Ocean island nation last year, approved this week's shipment of nearly $16 million worth of timber illegally logged from the country's rainforest parks, according to documents provided to mongabay.com.


Already on the edge, lemurs could become victims of climate change
(06/08/2010) Expanding beyond well-known victims such as polar bears and coral reefs, the list is growing of species likely to be hard hit by climate change: from lizards to birds to amphibians. Now a new study has uncovered another group of species vulnerable to a warmer world: lemurs.


French company to break moratorium on shipments of illegally logged rosewood from Madagascar
(06/03/2010) SEAL, a French transport company, is scheduled to ship 79 containers of rosewood tomorrow from the port of Toamasina on its vessel Terra Bona, reports Midi Madagascar. The shipment comes less than three months after Madagascar's ruling authority banned timber exports after international uproar over the organized logging of the country's national parks in the aftermath of last year's military coup. SEAL's shipment of timber will be in direct violation of the moratorium.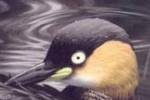 'No hope now remains' for the Alaotra grebe
(05/31/2010) World governments have missed their goal of stemming biodiversity loss by this year, instead biodiversity loss has worsened according to scientists and policy-makers, and a little rusty-colored bird, the Alaotra grebe (Tachybaptus rufolavatus) is perhaps a victim of this failure to prioritize biodiversity conservation. Native to a small region in Madagascar, the grebe has been declared extinct by BirdLife International and the IUCN Red List due to several factors including the introduction of invasive carnivorous fish and the use of nylon gill-nets by local fishermen, which now cover much of the bird's habitat, and are thought to have drowned diving grebes. The bird was also poached for food.




Researchers: Madagascar rosewoods deserve CITES protection
(05/27/2010) A new policy paper in Science warns that several species of Madagascar's rosewood could be pushed to extinction due to a current illegal logging crisis on the island. These hardwood species should be considered for protection under Convention of International Trade in Endangered Species of Wild Fauna and Flora (CITES), the researchers conclude.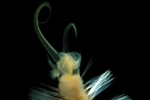 Photos: the penis-like mushroom and other top 10 new species of 2009
(05/23/2010) The International Institute for Species Exploration at Arizona State University has released its annual top 10 list of new species discovered last year. This time the list includes a two inch penis-like mushroom, a minnow named after Bram Stoker's world-famous horror-character, a bomb-throwing deep sea worm, a giant carnivorous plant named after TV personality and conservationist David Attenborough, and a beautifully patterned frogfish.




Climate change devastating lizards worldwide: 20 percent estimated to face extinction
(05/13/2010) Lizards have evolved a variety of methods to escape predators: some will drop their tail if caught, many have coloring and patterning that blends in with their environment, a few have the ability to change their colors as their background changes, while a lot of them depend on bursts of speed to skitter away, but how does a lizard escape climate change? According to a new study in Science they don't. The study finds that lizards are suffering local extinctions worldwide due exclusively to warmer temperatures. The researchers conclude that climate change could push 20 percent of the world's lizards to extinction within 70 years.


Video: Madagascar could become "Haiti-like"
(04/28/2010) Niall O'Connor from the World Wildlife Fund warns in a Carte Blanche production that if the ecological destruction of Madagascar continues, the poor island country could become "Haiti-like", where he says, "most of the biodiversity, most of the forests are gone".


Madagascar passes decree banning rainforest timber trade
(04/27/2010) Madagascar's transitional government has finally signed a decree banning the logging and trade of precious hardwoods, a month after announcing the moratorium.



World failing on every environmental issue: an op-ed for Earth Day
(04/22/2010) The biodiversity crisis, the climate crisis, the deforestation crisis: we are living in an age when environmental issues have moved from regional problems to global ones. A generation or two before ours and one might speak of saving the beauty of Northern California; conserving a single species—say the white rhino—from extinction; or preserving an ecological region like the Amazon. That was a different age. Today we speak of preserving world biodiversity, of saving the 'lungs of the planet', of mitigating global climate change. No longer are humans over-reaching in just one region, but we are overreaching the whole planet, stretching ecological systems to a breaking point. While we are aware of the issues that threaten the well-being of life on this planet, including our own, how are we progressing on solutions?


Photo: Lemur species rediscovered after 100 years
(04/09/2010) A species of lemur has been rediscovered more than a century after it was last spotted, report researchers from McGill University, the German Primate Centre in Göttingen Germany, the University of Antananarivo in Madagascar, and the University of Massachusetts.




New blind snake discovery
(04/06/2010) Call them survivors: blindsnakes have been identified as one of the few groups of organisms that inhabited Madagascar when it broke from the Indian subcontinent around 100 million years ago. According to a new study in Biology Letters, blindsnakes not only survived the split of Madagascar and India, but likely traveled from Asia to Australia and Africa to South America on floating vegetation, the latter a journey that may have taken six months of drifting on ocean currents. "Blindsnakes are not very pretty, are rarely noticed, and are often mistaken for earthworms," says Blair Hedges of her subjects. "Nonetheless, they tell a very interesting evolutionary story."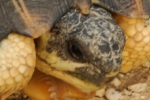 Once common tortoise from Madagascar will be 'extinct in 20 years'
(04/05/2010) The radiated tortoise, once common throughout Madagascar, faces extinction within the next 20 years due to poaching for its meat and the illegal pet trade, according to biologists with the Turtle Survival Alliance (TSA) and the Wildlife Conservation Society (WCS). Returning from field surveys in southern Madagascar's spiny forest, they found regions without a single turtle. Locals said that armed bands of poachers were taking truckloads of tortoises to be sold in meat markets. The tortoise is also popular in the underground pet trade, although it is protected by CITES (Convention on International Trade in Endangered Species).


New timber ban failing to stop illegal logging in Madagascar
(04/04/2010) Rainforest timber continues to be cut illegally from Madagascar's national parks despite a recently announced moratorium on precious wood exports and logging, reports a source from the Indian Ocean island nation.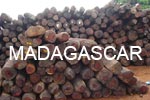 Madagascar bans rainforest timber exports following global outcry
(03/25/2010) Under mounting pressure over illegal logging of its national parks, Madagascar's transitional government on Wednesday reinstated a ban on rosewood logging and exports. The decree (no. 2010-141), which prohibits all exports of rosewood and precious timber for two to five years, was announced during a council meeting held yesterday at Ambohitsorohitra Palace in Antananarivo, Madagascar's capital city.


Environmental groups call on Delmas to cancel shipment of illegally logged wood from Madagascar
(03/15/2010) Pressure is building on the French shipping company Delmas to cancel large shipments of rosewood, which was illegally logged in Madagascar during the nation's recent coup. Today two environmental groups, Global Witness and the Environmental Investigation Agency (EIA) called on Delmas to cancel the shipment, which is currently being loaded onto the Delmas operated ship named 'Kiara' in the Madagascar port of Vohemar.




Thousands of tons of illegal timber in Madagascar readied for export
(03/13/2010) As the President of France, Nicholas Sarkozy, argues in Paris that more funding is needed to stop deforestation and mitigate climate change, a shipment of illegal rosewood is being readied for export in Madagascar by a French company with the tacit approval of the French government.




Photos: Madagascar's wonderful and wild frogs, an interview with Sahonagasy
(03/03/2010) To save Madagascar's embattled and beautiful amphibians, scientists are turning to the web. A new site built by herpetologists, Sahonagasy, is dedicated to gathering and providing information about Madagascar's unique amphibians in a bid to save them from the growing threat of extinction. "The past 20 years have seen resources wasted because of a poor coordination of efforts," explains Miguel Vences, herpetologist and professor at the Technical University of Braunschweig. "Many surveys and reports have been produced that were never published, many tourists found and photographed amphibians but these photos were not made available to mapping projects, many studies carried out by Malagasy students did not make use of literature because it was not available."


Madagascar traders ready $50m shipment of illegally logged rainforest timber
(03/02/2010) Traders in Vohemar, a port in northeastern Madagascar, are preparing for to ship $54 million worth of timber illegally logged from the Indian Ocean island nation's rainforest parks, report local sources.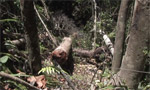 French company prepares to ship illegally logged rainforest wood from Madagascar
(02/25/2010) Delmas, a French shipping company that has been under pressure for facilitating the destruction of Madagascar's rainforest parks, has been cleared to begin picking up contraband rosewood as soon as Monday, report local sources in the Indian Ocean island nation. Leaders behind last year's military coup — which displaced the autocratic, but democratically elected President Marc Ravalomanana — have signed off on the shipment.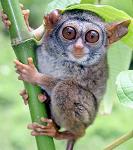 Humans push half of the world's primates toward extinction, lemurs in particular trouble
(02/18/2010) Of the known 634 primate species in the world 48 percent are currently threatened with extinction, making mankind's closes relatives one of the most endangered animal groups in the world. In order to bring awareness to the desperate state of primates, a new report by the International Union for the Conservation of Nature highlights twenty-five primates in the most need of rapid conservation action. Compiled by 85 experts the report, entitled Primates in Peril: The World's 25 Most Endangered Primates, 2008–2010, includes six primates from Africa, eleven from Asia, three from Central and South America, and five from the island of Madagascar.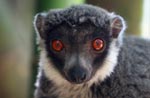 How to end Madagascar's logging crisis
(02/10/2010) In the aftermath of a military coup last March, Madagascar's rainforests have been pillaged for precious hardwoods, including rosewood and ebonies. Tens of thousands of hectares have been affected, including some of the island's most biologically-diverse national parks: Marojejy, Masoala, and Makira. Illegal logging has also spurred the rise of a commercial bushmeat trade. Hunters are now slaughtering rare and gentle lemurs for restaurants.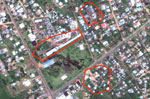 Satellites being used to track illegal logging, rosewood trafficking in Madagascar
(01/28/2010) Analysts in Europe and the United States are using high resolution satellite imagery to identify and track shipments of timber illegally logged from rainforest parks in Madagascar. The images could be used to help prosecute traders involved in trafficking and put pressure on companies using rosewood from Madagascar.



Coup leaders sell out Madagascar's forests, people
(01/27/2010) Madagascar is renowned for its biological richness. Located off the eastern coast of southern Africa and slightly larger than California, the island has an eclectic collection of plants and animals, more than 80 percent of which are found nowhere else in the world. But Madagascar's biological bounty has been under siege for nearly a year in the aftermath of a political crisis which saw its president chased into exile at gunpoint; a collapse in its civil service, including its park management system; and evaporation of donor funds which provide half the government's annual budget. In the absence of governance, organized gangs ransacked the island's biological treasures, including precious hardwoods and endangered lemurs from protected rainforests, and frightened away tourists, who provide a critical economic incentive for conservation. Now, as the coup leaders take an increasingly active role in the plunder as a means to finance an upcoming election they hope will legitimize their power grab, the question becomes whether Madagascar's once highly regarded conservation system can be restored and maintained.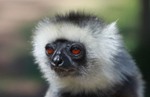 Natural rafts carried Madagascar's unique wildlife to its shores
(01/20/2010) Imagine, forty million years ago a great tropical storm rises up on the eastern coast of Africa. Hundreds of trees are blown over and swept out to sea, but one harbors something special: inside a dry hollow rests a small lemur-like primate. Currents carry this tree and its passenger hundreds of miles until one gray morning it slides onto a faraway, unknown beach. The small mammal crawls out of its hollow and waddles, hungry and thirsty, onto the beach. Within hours, amid nearby tropical forests, it has found the sustenance it needs to survive: in a place that would one day be named Madagascar.


Conservation organization, Durrell Wildlife Trust, forced to cut staff due to economic downturn
(01/19/2010) The Durrell Wildlife Trust—which turned fifty last year—has announced that it will be cutting back 10 percent of its workforce, approximately 12-14 positions, due to an ongoing deficit caused by the economic recession.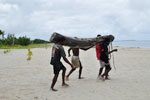 World Bank, European governments finance illegal timber exports from Madagascar
(01/11/2010) While Madagascar's current government has drawn sharp criticism from the international community for its failure to prevent the environmental destruction of recent months, France, Holland, Morocco, and the World Bank have all been implicated in financing illegal logging operations in Madagascar's national parks over the past year. Even as foreign governments condemned the surge in illegal logging last year, many--either directly or through institutions they support--are shareholders in the very banks that have financed the export of illegal lumber from Madagascar's SAVA region. The Bank of Africa Madagascar, for instance, is part owned by Proparco, a subsidiary of the Agence Française du Développement, as well as the World Bank's International Finance Corporation, Dutch development bank FMO, and the Banque Marocaine du Commerce Extérieur. Société Générale and Crédit Lyonnais, both part-owned by the French government, have also provided loans to illegal timber traders.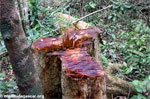 Madagascar sanctions logging of national parks
(01/11/2010) Madagascar has legalized the export of rosewood logs, possibly ushering in renewed logging of the country's embattled rainforest parks. The transitional authority led by president Andry Rajoelina, who seized power during a military coup last March, today released a decree that allows the export of rosewood logs harvested from the Indian Ocean island's national parks. The move comes despite international outcry over the destruction of Madagascar's rainforests for the rosewood trade. The acceleration of logging since the March coup has been accompanied by a rise in commercial bushmeat trafficking of endangered lemurs.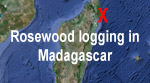 Facing cash crunch, will Madagascar's politicians sanction rainforest plunder?
(01/07/2010) Facing a severe cash crunch in the aftermath of a March military coup which triggered donor governments to suspend aid and crippled its economy, Madagascar's top politicians are reportedly mulling the export of tens of millions of dollars' worth of precious hardwoods illegally logged from the country's rainforest parks, according to high-placed sources in the Indian Ocean island nation.


Shipment of questionable Madagascar rosewood canceled after international outcry
(12/28/2009) A planned shipment of rosewood that had been illegally logged from Madagascar'a rainforest parks has been canceled following international outcry, report sources in Madagascar. The shipment, which would have been transported by Delmas, a French shipping company, had been scheduled for December 21st or 22nd out of the port of Vohemar.



Rainforest conservation: a year in review
(12/27/2009) 2009 may prove to be an important turning point for tropical forests. Lead by Brazil, which had the lowest extent of deforestation since at least the 1980s, global forest loss likely declined to its lowest level in more than a decade. Critical to the fall in deforestation was the global financial crisis, which dried up credit for forest-destroying activities and contributed to a crash in commodity prices, an underlying driver of deforestation.


French company CMA-CGM facilitating destruction of Madagascar's rainforests, undermining France's position in Copenhagen
(12/17/2009) Delmas, a subsidiary of French shipping giant CMA-CGM, is facilitating the destruction of Madagascar's endangered rainforests by providing transport for timber illegally logged from the country's national parks, report multiple sources that have been investigating the illegal rosewood trade in the Indian Ocean island nation. The accusations put Delmas directly in conflict with the French government's push at climate talks in Copenhagen to establish stronger safeguards against illegal logging.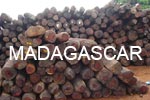 Major international banks, shipping companies, and consumers play key role in Madagascar's logging crisis
(12/16/2009) In the midst of cyclone season, a 'dead' period for tourism to Madagascar's east coast, Vohémar, a sleepy town dominated by the vanilla trade, is abuzz. Vanilla prices have scarcely been lower, but the hotels are full and the port is busy. "This afternoon, it was like a 4 wheel drive show in front of the Direction Regionale des Eaux & Forets," one source wrote in an email on November 29th: "Many new 4x4, latest model, new plane at the airport, Chinese everywhere."


REDD in Madagascar
(12/08/2009) Despite damage from ongoing illegal logging, Madagascar's remaining forests are poised to benefit from the proposed REDD mechanism, a U.N.-backed scheme that would compensate tropical developing countries for reducing emissions from deforestation and degradation, reports a new paper that analyzes efforts to use carbon finance to protect the Indian Ocean island's remaining forests. The research is published in the open-access Madagascar Conservation & Development.


Authorities in Madagascar conduct raids to uncover illegal rosewood
(11/24/2009) Authorities in Madagascar over the weekend launched a series of raids to uncover rosewood and other precious hardwoods illegally logged from the country's national parks in the aftermath of a March military coup.


Gibson Guitar under federal investigation for alleged use of illegal rainforest timber from Madagascar
(11/19/2009) Federal agents from the U.S. Fish and Wildlife Service raided Gibson Guitar's factory Tuesday afternoon, due to concerns that the company had been using illegally harvested wood from Madagascar, reports the Nashville Post.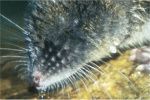 Forgotten species: Madagascar's water-loving mammal, the aquatic tenrec
(11/12/2009) There are many adjectives one could attach to the aquatic tenrec: rare, mysterious, elusive, one-of-a-kind, even adorable, though one tries to stray from such value-laden titles since it excludes so many other non-adorable inhabitants of the animal kingdom. This small and, yes, cute insectivore, also known as the web-footed tenrec, lives in Eastern Madagascar where at night it spends the majority of its time swimming and diving in fast-moving streams for insects and tadpoles. It sleeps during the day in small streamside burrows. To date that is about the extent of our knowledge of this species.


House resolution condemns plunder of natural resources in Madagascar
(11/04/2009) A House of Representatives resolution introduced by Earl Blumenauer (D-Oregon) condemns the illegal plundering of natural resources in Madagascar, reports the Wildlife Conservation Society (WCS).


Rosewood traffickers busted in Madagascar
(10/28/2009) Authorities in Madagascar have sacked a local official, arrested several businessmen, and issued fines following the discovery of illegally harvested rosewood logs aboard a ship, reports L'Express de Madagascar.



World's largest golden orb weaving spider discovered in South Africa and Madagascar
(10/21/2009) Golden orb weaving spiders have been garnering media attention recently. Last year stunning photographs of a golden orb weaver eating a bird in Australia made world coverage. Now, over a century after the last legitimate species of golden orb weaver was discovered, researchers have announced the discovery of a new and rare species of golden orb weaving spider in Africa and on the island of Madagascar. On average the new species is the largest of all golden orb weavers known.


Government decree sanctions trafficking of rainforest timber in Madagascar
(10/07/2009) A new decree by Madagascar's transitional government may fuel continued destruction of the country's tropical forests and biodiversity, warns a statement issued jointly by a dozen leading scientific and conservation groups.


Good news for the rarest lemur
(10/07/2009) A scientific expedition has found one of the Madagascar's rarest lemurs in a region where it was once thought to be extinct, report conservationists.



Innovative reforestation project threatened by 'regime change' in Madagascar, an interview with Rainer Dolch
(09/16/2009) In Madagascar the TAMS Program (Tetik'asa Mampody Savoka, meaning "the project to bring back the forest") is under threat due to the new government's unwillingness to provide funding. The current government, after gaining power in a coup this year, has frozen all funds slated for the project and has yet to sign a carbon credit agreement with the World Bank which would bring much needed funding. "It remains to be seen if the recognition or not of Madagascar's transitional Government will lead to signing the contract with the World Bank in the near future. This is of course essential for the continuity of the project and its future," Rainer Dolch told Monagaby.com in an interview.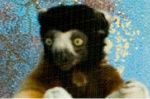 Crowned sifaka population on the verge of local extinction: dispatch from the field
(09/08/2009) A small group of crowned sifaka lemurs Propithecus coronatus have been located in the corridor d'Amboloando-Dabolava, Miandrivazo district-Madagascar, but are immediately threatened with local extinction. The small, fragmented, and isolated forest shelters a group of only six adults and one baby. Interviews with local people revealed that once several groups of the species resided in the corridor, and even last year, about 20 individuals were still found there. However, within one year, the population dropped from 20 to 6 individuals.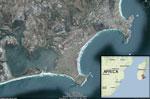 Mining and biodiversity offsets in Madagascar: Conservation or 'Conservation Opportunities?'
(08/30/2009) Rio Tinto's ilmenite mine in southeastern Madagascar is among the largest on the planet. At peak capacity, its owners say, it could produce as much as 2 million tons of the stuff—worth roughly $100 a ton—each year, to be shipped off and smelted abroad. What's left of it after refining—some 60 percent of the ore that arrives from Madagascar—will be sold for $2000 a ton as titanium dioxide, a pigment used in everything from white paint and tennis court lines to sunscreen and toothpaste. At current levels of demand, the Fort Dauphin mine will provide 9 percent of the world supply over the next 40 years, amounting to more than $60 billion of titanium dioxide. Even that is a conservative estimate: demand for ilmenite has been growing at 3-5 percent annually, with major mines slated to close in coming years and few untapped sources known worldwide.


World's rarest duck flies closer to extinction's edge
(08/27/2009) The Madagascar pochard, the world's rarest duck, was already thought to be extinct once. After a last sighting in 1991 the species was thought to have vanished until nine adults and four hatchlings were discovered in 2006. However, conservationists have begun to fear that the species will never recover after a survey this year found only six females.


Destruction worsens in Madagascar
(08/20/2009) Armed bands are decimating rainforest reserves in northeastern Madagascar, killing lemurs and intimidating conservation workers, despite widespread condemnation by international environmental groups.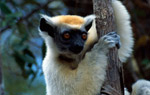 Appalling photos reveal lemur carnage in Madagascar [warning: graphic images]
(08/20/2009) New pictures released by Conservation International depict a troubling development in Madagascar: the emergence of a commercial bushmeat market for lemurs. In the aftermath of a March coup that saw Madagascar's president replaced at gunpoint by the capital city's mayor, Madagascar's reserves — especially in the northern part of the country — were ravaged by illegal loggers. Armed bands, financed by foreign timber traders, went into Marojejy and Masoala national parks, harvesting valuable hardwoods including rosewood and ebonies. Without support from the central government — or international agencies that pulled aid following the coup — there was no one to stop the carnage. But now it emerges that timber wasn't the only target.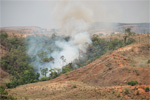 Saving the tsingy forests in Madagascar
(08/17/2009) After the success of their Sahafina Forest project, Biodiversity Conservation Madagascar is now branching out to the tsingy forest of Beanka, a project set to launch in October this year. Biodiversity Conservation Madagascar (BCM) has been granted a 25-year lease on a 14,000-hectare area of dry hardwood forest, the Beanka tsingy, situated 75 km east of Maintirano in western Madagascar. 'Tsingy' are spectacular razor-sharp limestone pinnacles found on the west and north of the island, formed by acidic rain erosion. The deciduous forests that inhabit them are characterized by high plant and animal endemism. The Malagasy organization plans to apply the same principles here – protection of the forest, socio-economic development and forest restoration – that brought them success with their last project, the 2,500-hectare forest block of Sahafina on Madagascar's east coast.




Historical deforestation in Madagascar may not be as bad as commonly believed
(08/12/2009) The long-held assumption that Madagascar has lost 90 percent of its forest cover due to fire and slash-and-burn agriculture may be overstated, argues new research published in Conservation Letters. Analyzing 6000-year pollen records in four sites, Malika Virah-Sawmy of Oxford University found evidence that vegetation in southeast Madagascar has for millennia been a mosaic of forests, woodlands and savannas, rather than continuous forests as generally believed. Virah-Sawmy says the findings demonstrate the importance of conserving Madagascar's remaining ecosystems as a buffer against climate change.



Lessons from the crisis in Madagascar, an interview with Erik Patel
(08/11/2009) On March 17th of this year the President of Madagascar, Marc Ravalomanana, resigned his post. This made way for Andry Rajoelina, mayor of Madagascar's capital, to install himself as president with help from the military. The unrest and confusion that usually accompanies such a coup brought disaster on many of Madagascar's biological treasures. Within days of Ravalomanana's resignation, armed gangs, allegedly funded by Chinese traders, entered two of Madagascar's world-renowned national parks, Marojejy and Masoala parks, and began to log rosewood, ebonies, and other valuable hardwoods. The pillaging lasted months but the situation began to calm down over the summer. Now that the crisis in Madagascar has abated—at least for the time being—it's time to take stock. In order to do so, Mongabay spoke to Erik Patel, an expert on the Critically Endangered Silky Sifaka and frequent visitor to Madagascar, to find out what the damage looks like firsthand and to see what lessons might be learned.


Madagascar issues fines for timber stolen from national parks during political crisis
(08/03/2009) Authorities in Madagascar have blocked shipment of 176 containers of rosewood and other valuable timber from Vohémar port, pending payment of 72 million Malagasy ariary ($37,500) in fines reports Noro Niaina of Les Nouvelles. The wood was illegally harvested from Marojejy and Masoala National Parks during the chaos that followed a March military coup on the Indian Ocean island nation.


REDD shouldn't neglect biodiversity say scientists
(07/30/2009) Schemes to mitigate climate change by protecting tropical forests must take into account biodiversity conservation, said two leading scientific organizations at the conclusion of a four day meeting in Marburg, Germany.


Photos: 5 baby lemurs born at the Bronx Zoo
(07/23/2009) Five baby lemurs have been born at the Bronx Zoo's Madagascar exhibit in the year since it opened, reports the Wildlife Conservation Society.


Tiny bat discovered on islands off Africa
(06/25/2009) The Natural History Museum in Geneva, Switzerland has announced the discovery of a bat species new to science on the Comoros Island arichpelago off the south-east coast of Africa. The bat weighs only 5 grams (0.17 ounces).


Despite violent protests and coup, Daewoo continues to hold cropland in Madagascar
(06/19/2009) Despite violent protests that have left more than 100 dead and led to the ouster of a democratically-elected president, Daewoo Logistics Corp. continues to hold 218,000 hectares of cropland in Madagascar, according to a new campaign by Rainforest Rescue.




Conservation success in Madagascar proves illusory in crisis
(06/12/2009) Despite the popularity he enjoyed abroad, domestic support for ousted president Marc Ravalomanana eroded rather quickly last February when he went head to head with Andry Rajoelina, the rookie mayor of Madagascar's capital. Rajoelina rallied disparate opposition groups to the cause and soon toppled the incumbent to become, at his own proclamation, President of the "High Authority of Transition." For the country as a whole, the results have not been encouraging. The tourism industry has shriveled to a shadow of itself, important donors have suspended non-humanitarian aid, and a power vacuum has set in in remote regions of the island, wreaking havoc on some of its most fragile and prized ecosystems.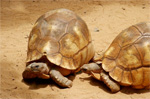 World's rarest tortoises stolen
(06/08/2009) Four of the world's rarest tortoises have been stolen from a captive breeding program in Madagascar. The critically endangered animals were part of a group of 44 due for release by the Durrell Wildlife Conservation Trust and were being held in pre-release enclosures at a secret location. The Trust fears the stolen ploughshare tortoises are destined for Europe, USA or Asia where collectors will pay thousands of dollars for individuals due to the rarity of the species. It is estimated that only 500 adults remain in the wild and they are only found in Baly Bay national park, where the tortoises were taken from. After extensive investigations in the area arrests have been made but the tortoises are yet to be recovered.


International community calls for action against gangs' illegal logging in Madagascar
(06/08/2009) Six nations and three conservation organizations have issued a statement calling for action against illegal logging in Madagascar's protected areas.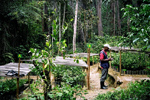 Forest Recovery Programs in Madagascar
(06/01/2009) Despite being one of the last habitable land masses on earth to be settled by man, Madagascar has lost more of its forests than most countries; less than 10% of its original forest cover now remains, and much of that is degraded. Political turmoil that erupted earlier this year continues to rumble on and the ensuing lawlessness has created the opportunity for illegal logging syndicates to plunder national parks, most notably Marojejy and Masoala, for valuable hardwoods and wildlife.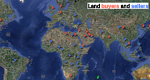 Rich countries buy up agricultural land in poor countries
(05/26/2009) Over two-and-half million hectares in the Democratic Republic of the Congo; half a million hectares in Tanzania; and a quarter of a million hectares in Libya: these figures represent just some of the recent international land deals where wealthy countries buy up land in poorer nations for food, and sometimes biofuel, production. The controversial trend has sparked a recent report from the International Food Policy Research Institute (IFPRI) highlighting what nations have to gain—and lose—from participating in such deals.



Approximately 200 new frogs discovered in Madagascar threatened by political instability
(05/11/2009) Amid the amphibian extinction crisis—where amphibians worldwide are disappearing due to habitat loss, pollution, and a devastating fungal epidemic—the Spanish Scientific Research Council (CSIC) has announced some good news. In a survey of the island-nation of Madagascar they have identified between 129 and 221 new species of frogs. The discovery of so many new species nearly doubles the island's total number of frogs.


Rainforest pillage continues in Madagascar
(04/16/2009) Gangs of illegal rosewood loggers continue to pillage the wildlife-rich forests of northeastern Madagascar, reports a local source.


Hopeful conservation news emerges out of Madagascar political crisis
(03/31/2009) A bit of hopeful conservation news has finally emerged out of the political crisis in Madagascar, report local sources. Wednesday representatives from several NGOs active in conservation in Madagascar met with a minister from island nation's new government. The minister said his top priority was putting an end to illegal logging that emerged when rangers abandoned their posts and armed gangs moved into protected areas in the wake of the political crisis.



Conservation groups condemn 'open and organized plundering' of Madagascar's natural resources
(03/30/2009) Eleven conservation organizations—including WWF, CI, and WCS—have banded together to condemn logging in Madagascar's world renowned parks during a time of political crisis. Taking advantage of the turmoil after interim president Andry Rajoelina took control of the country in a bloodless coup from former president Marc Ravalomanana on March 17th, pristine forests have been plundered for valuable wood, wildlife trafficking has increased, and illegal mining operations have begun say the conservation organizations.


Scramble to log Madagascar's valuable rainforest trees in midst of crisis
(03/23/2009) Armed gangs are logging rosewood and other valuable hardwoods from Marojejy and Masoala parks in Madagascar following abandonment of posts by rangers in the midst of the island nation's political crisis, reports marojejy.com and local sources.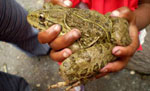 Frogs are an important food source for people in parts of Madagascar
(03/23/2009) With its famous diversity of frog species, Madagascar has long been targeted by smugglers for the pet trade. While this threat is relatively well understood, less known is the domestic market for edible frogs. Writing in Tropical Conservation Science, researchers from the University of Aberdeen and institutions in Madagascar provide a glimpse into this activity.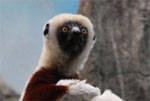 Political turmoil in Madagascar threatens lemurs, parks
(03/19/2009) Political turmoil in Madagascar has wrecked the country's emerging ecotourism industry and is now threatening to undo decades of conservation work. Conservation in Madagascar is highly dependent on income from tourism. Half of park entrance fees are returned to communities living in and around protected areas. Without this source of income, locals in some areas may turn to conservation areas for timber, fuelwood, agricultural land, and wildlife as food and for export.


Political violence in Madagascar may lead Daewoo to abandon controversial farm project
(02/10/2009) Political instability and low commodity prices may lead South Korea's Daewoo Logistics to delay or pull out of a controversial agricultural project in Madagascar, reports Reuters.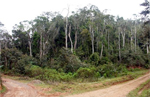 Nickel mine in Madagascar may threaten lemurs, undermine conservation efforts
(01/21/2009) One of the world's largest nickel mines will have adverse impacts on a threatened and biologically-rich forest in Madagascar, say conservationists. The $3.8 billion mining project, operated by Canada's Sherritt, will tear up 1,300 to 1,700 hectares of primary rainforest that houses nearly 1,400 species of flowering plants, 14 species of lemurs, and more than 100 types of frogs. Many of the species are endemic to the forest. While Sherritt says on its web site that is working to minimize its environmental impact, including moving endangered wildlife, replanting trees, and establishing buffer zones near protected areas, conservationists say that efforts are falling short.


Madagascar hit by deadly vanilla-killing fungus
(12/08/2008) Madagascar, the world's largest producer and exporter of vanilla, has been hit by a deadly, incurable fungus that can kill vanilla plants before their pods reach maturity, reports The Associated Press. The development could have dire impacts for the country's vanilla industry which generates hundreds of millions of dollars per year for the impoverished Indian Ocean island nation.


Madagascar denies 'land grab' by South Korean conglomerate
(11/22/2008) Officials from Madagascar are denying they have reached an agreement to turn over half the island nation's arable land to a South Korean corporation for food production, reports Reuters. The controversial deal — which would have paid Madagascar nothing and turned over 1.3 million hectares to produce corn and palm oil for export at a time when one-third of country's children are malnourished — was reported last week by the Financial Times.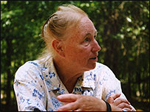 An interview with ringtailed lemur expert Alison Jolly
(10/06/2008) Madagascar has more than 100 types of lemurs, but the most famous species is the ringtailed lemur, a primate found widely in the southern part of the Indian Ocean island. The world's leading expert on ringtailed lemurs is Alison Jolly, presently a Visiting Scientist at the University of Sussex in the UK. Since arriving on the Indian Ocean island in 1963, Jolly has documented the behavior and population dynamics of ringtailed lemurs in Berenty, a small private reserve of gallery forest amid a sea of desert-like spiny forest in southern Madagascar.


Dell becomes carbon neutral by saving endangered lemurs
(08/06/2008) Dell, the world's largest computer maker, announced it has become the first major technology company to achieve carbon neutrality.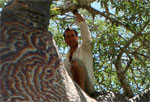 Developing the world's most sophisticated program for mapping endangered species
(08/04/2008) It was big news in April when a comprehensive map of Madagascar's rich and unique biodiversity was unveiled. The project managed to map ranges of 2,315 species across an island larger than France. Such detailed mapping could not have happened without the aid of Steve Phillips. A researcher at AT&T, Phillips developed the software that made such detailed and expansive mapping possible.


Adaptation to climate change will be difficult for Madagascar
(07/29/2008) Madagascar's high levels of endemism coupled with its extensive loss and degradation of ecosystems leave its species particularly vulnerable to climate change. A new paper evaluates these risks and sets forth conservation priorities to best maintain the ecological resilience of the island nation.


14 countries win REDD funding to protect tropical forests
(07/24/2008) Fourteen countries have been selected by the World Bank to receive funds for conserving their tropical forests under an innovative carbon finance scheme.


Population of critically endangered lemurs discovered in Madagascar
(07/22/2008) Scientists in Madagascar have discovered a population of greater bamboo lemurs (Prolemur simus), a critically endangered species of primate, in an area more than 400 kilometers away from its only known refuge, reports conservation International.


Madagascar villagers vote to protect sea turtles, see first hatchlings
(07/15/2008) The first hatching of Green Turtles recorded as a direct result of efforts to protect the species in southwest Madagascar has been witnessed by marine conservationists working for British charity, Blue Ventures conservation.


Tiny lemur species discovered in Madagascar
(07/14/2008) Researchers have discovered a previously unknown species of mouse lemur on the island of Madagascar. The find brings the global number of mouse lemurs to 16.


Chameleon has shortest life span of any four-legged animal
(06/30/2008) A newly discovered species of chameleon lives a cicada-like existence, spending the bulk of its short year-long life in its egg, report researchers writing in journal Proceedings of the National Academy of Sciences (PNAS).


Lemurs are key to health of Madagascar's rainforests
(06/12/2008) Lemurs play a key role in the health of Madagascar's tropical rainforests said a renowned primatologist speaking at a meeting of conservation biologists in Paramaribo, Suriname.


Madagascar signs big carbon deal to fund rainforest conservation
(06/11/2008) Madagascar will sell more than nine million tons of carbon offsets to fund rainforest conservation in a newly established protected area. conservationists say the deal protect endangered wildlife, promote sustainable development to improve the economic well-being of people living in and around the park area, and help fight global warming.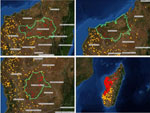 Fire monitoring by satellite becomes key conservation tool
(03/26/2008) Remote sensing is increasingly used as a tool for conservation management. Beyond traditional satellite imagery popularized by Google Earth, new sensing applications are allowing researchers located anywhere in the world to track fires, illegal logging and mining, and deforestation in some of Earth's most isolated regions using a computer or handheld device. The Fire Alert System is one example of an application that is harnessing the power of satellites to deliver key data to conservation managers. Developed by Madagascar's ministry of Environment, the International Resources Group, conservation International using data from the University of Maryland and NASA, the Fire Alert System enables near real-time monitoring of fires anywhere on the island of Madagascar, a hotspot of biological diversity. The system, which sends subscribers regular email alerts on newly-detected burning, will eventually be expanded to include all the world's protected areas, allowing managers to detect not only fires but potentially related activities like road building, logging, and even hunting.




Half of Madagascar's amphibians may still await discovery
(03/11/2008) Madagascar is one of the most unique places on Earth for wildlife. When the public thinks of Madagascar's fauna most likely they think of one of the fifty species of lemur. Yet, Madagascar possesses a wealth of endemic wildlife outside of these unique prosimians. For example, to frog-lovers Madagascar is a paradise. The only amphibians living on Madagascar are frogs; the island is devoid of toads, salamanders, or newts. But what it lacks in other amphibians it makes up for in the number and beauty of its frogs. Currently, 240 frogs have been catalogued in Madagascar, 99 percent of which are endemic. Yet, amphibian expert Dr. Franco Andreone believes that, according to recent field studies, this may only be half of the frogs that actually live in Madagascar. Dr. Andreone believes the final tally could reach 500 species!


Madagascar's deforestation rate drops 8-fold in parks
(03/10/2008) Madagascar's deforestation rate in protected areas has fallen by eight-fold since the 1990s according to conservation International and the Malagasy government.


Aye-aye diverged from other lemurs 66M years ago
(02/25/2008) The aye-aye -- a bizarre, nocturnal lemur that taps on trees with its fingers to find its insect prey -- was the first of its family to branch off from the rest of the lemur line some 66 million years ago, report Duke researchers writing in the March 1 issue of Genome Research.


Cyclone batters Madagascar
(02/22/2008) 29 people were reported dead after Cyclone Ivan, a category 3 storm, struck Madagascar. The storm flooded key rice-producing regions in the country and comes a month after Cyclone Fame killed 13 on the island.


10-pound 'Giant Frog From Hell' discovered in Madagascar
(02/18/2008) Researchers have discovered the remains of what may be the largest frog ever to exist.


Madagascar's tortoises at high risk of extinction in the wild
(02/07/2008) Madagascar's rare and unique turtles and tortoises face high risk of extinction in the wild if conservation measures are not rapidly put into place, warned a group of scientists meeting to discuss the fate of Madagascar's most threatened repitles.


Giant exploding palm tree discovered in Madagascar
(01/17/2008) A gigantic palm that flowers itself to death and exists as part of an entirely unique genus has been discovered in Madagascar; its name will be published in the Botanical Journal of the Linnean Society on 17 January 2008. The mystery palm has a huge trunk which towers over 18m high and fan leaves which are 5m in diameter - among the largest known in flowering plants. This is the most massive palm ever to be found in Madagascar.


Photos: rare aye-aye lemur born at Bristol Zoo Gardens
(01/16/2008) Born on November 23rd, 2007 at Bristol Zoo Gardens this baby Aye-aye was given the name Raz. According to the EDGE (Evolutionary Distinct and Globally Endangered) organization this is only the second Aye-aye to be hand raised in the UK.


Madagascar increases fines for forest burning
(01/03/2008) Madagascar will increase penalties for people caught setting land-clearing fires on the biodiverse island, according to a report from Deutsche Presse-Agentur.


Madagascar fires mapped with Google Earth in real-time
(10/29/2007) Every year as much as one-third of Madagascar, one of the planet's most biodiverse islands, goes up in flames. Now a new tool gives scientists the ability to monitor and track Madagascar's fires in real-time through the Internet.


Metal workers recycle to escape poverty in Madagascascar
(07/06/2007) A ride across the Madagascar countryside can feel like stepping back in time on this tropical island off the east coast of Africa. There is no bustle of big cities. The Malagasy, as the people of Madagascar are known, live much like their forefathers in small communities where traditions are passed down through the generations. They live without any contemporary conveniences including running water, electricity, automobiles, televisions, or even shoes. They commute on foot, or with larger loads, in a wooden cart pulled by zebu, a type of large, bony oxen. Their houses are mostly constructed from available materials including sticks or bricks of dried mud collected from surrounding rice fields.


UNESCO lists rainforest parks of Madagascar as Heritage sites
(07/02/2007) UNESCO has listed six rainforest parks in Madagascar as World Heritage sites. The announcement comes as the Indian Ocean island nation has moved aggressively to protect its biologically-rich forests from further degradation.


Madagascar rainforests get World Heritage Listing
(06/27/2007) The World Heritage Committee has named the rainforests of Madagascar as one of three new UNESCO World Heritage List sites.


Madagascar's cyclone woes worsen, U.N. calls for more money
(05/16/2007) The United Nations relief arm today more than doubled the appeal it launched just two months ago to help Madagascar as the country tries to recover and rebuild its agriculture after a series of deadly recent cyclones and tropical storms since December.


Madagascar's president calls on Adventists to be "green"
(05/08/2007) Madagascar's president Marc Ravalomanana told some 30,000 Seventh-day Adventists gathered at a church outreach event that they need to help make the country "green" again after decades of deforestation have left the Indian Ocean island nearly denuded, reports the Adventist News Network.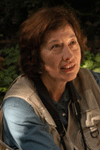 conservation is saving lemurs and helping people in Madagascar
(05/07/2007) Madagascar, an island nation that lies off the coast of southeastern Africa, has long been famous for its unique and diverse species of wildlife, especially lemurs--primates found nowhere else on the planet. In recent years, the island country has also become world-renowned for conservation efforts that are succeeding in spite of extraordinary pressures from a poor population that relies heavily on forest burning for basic subsistence. A large part of this success is due to the early efforts of Patricia Wright, a primatologist who has been working in the country for more than 20 years. Wright led the effort to launch the country's leading protected area and helped Madagascar become a leading global example of conservation despite its economic adversity.




Madagascar' forests are recovering
(05/02/2007) Some of Madagascar's most biologically rich forests appear to be recovering according to research published in the open-access journal PLoS ONE. The study also offers new insight in the forces behind deforestation and the social context of reforestation efforts.


Madagascar adds 15 protected areas
(04/30/2007) Madagascar has added 15 new protected areas covering nearly 1 million hectares (2.4 million acres) of land, reports conservation International (CI). The move will help protect the island's unique wildlife from extinction.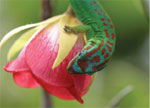 Neon green gecko key to preventing Mauritian plant extinction
(04/17/2007) A vibrantly colored gecko plays a key role in a highly threatened ecological community in Mauritius reports new research published in American Naturalist. Studying plant-animal interactions in Mauritius, an Indian Ocean island famous for its extinct dodo bird, researchers found that a rare plant, Trochetia blackburniana, benefits from its proximity to Pandanus plants because they house high densities of geckos responsible for pollination. The findings, which unusually identify a lizard as a key pollinator, are significant because they provide "valuable management insights for ongoing conservation efforts to save the highly endangered flora of Mauritius.


Tear-sucking moth in Madagascar feeds on bird eyes
(04/10/2007) Biologists have documented the first known case of moths feeding on the tears of birds. The research, published in the January 4 2007 issue of the journal Biology Letters, reports that Hemiceratoides hieroglyphica 'attacks sleeping birds in Madagascar' using its sharply barbed proboscis to penetrate the bird's eye. While similar behvaior has been reported in mammals, this is the first known case of tear-feeding on birds.


Sixth cyclone hits Madagascar; impact 'like tsunami'
(04/03/2007) As the sixth mayor cyclone to hit Madagascar this season tears across the northeast of the impoverished Indian ocean island, a relentless succession of natural disasters has left nearly half a million people in desperate need of humanitarian assistance.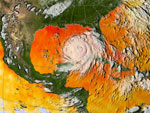 Deadly cyclones hurt conservation efforts in Madagascar
(04/02/2007) As Madagascar braces for the arrival of the sixth major cyclone (Gaya) to hit the Indian Ocean island this season, researchers from a prominent conservation have asked for help in the relief and recovery effort. Local officials with the Bronx Zoo-based Wildlife conservation Society say that the series of storms have left tens of thousands of people homeless, devastated croplands, and diverted already short funds from conservation activities.




Madagascar needs relief help after deadly cyclones
(03/30/2007) A deadly cyclone has struck one of the most biologically diverse parts of the planet, forcing people from their homes and damaging their only source of livelihood. Cyclone Indlala has displaced more than 100,000 people and caused widespread crop losses in northeastern Madagascar according to reports from relief organizations. 100-mph (165 km/h) winds and heavy rains caused considerable damage in coastal areas in the northeastern part of the Indian Ocean island. 95 people were reported dead but there are fears of spreading water-borne disease.


Madagascar cyclones may be boon to vanilla market
(03/27/2007) A string of destructive cyclones that have struck the Indian island nation of Madagascar, off the southeastern coast of Africa, may serve as a boon to the depressed vanilla market. Madagascar, the largest producer of vanilla, will likely see production fall due to the havoc wreaked by the storms, which displaced more than 100,000 people. At the same time, the reduction in supply is sure to boost prices for other growers able to bring product to market.


Amazon, Madagascar, Borneo are top plant biodiversity hotspots
(03/20/2007) A new map devised by biologists at the University of California, San Diego (UCSD) and the University of Bonn in Germany, shows that the Andes-Amazon region of South America, Madagascar, Borneo, and New Guinea reign as the world's hotspots for plant diversity. The researchers say the map will help both prioritize areas for biodiversity conservation and forecast the impact of climate change on plant communities and the ecological services they provide.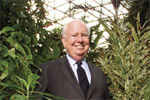 Biodiversity extinction crisis looms says renowned biologist
(03/12/2007) While there is considerable debate over the scale at which biodiversity extinction is occurring, there is little doubt we are presently in an age where species loss is well above the established biological norm. Extinction has certainly occurred in the past, and in fact, it is the fate of all species, but today the rate appears to be at least 100 times the background rate of one species per million per year and may be headed towards a magnitude thousands of times greater. Few people know more about extinction than Dr. Peter Raven, director of the Missouri Botanical Garden. He is the author of hundreds of scientific papers and books, and has an encyclopedic list of achievements and accolades from a lifetime of biological research. These make him one of the world's preeminent biodiversity experts. He is also extremely worried about the present biodiversity crisis, one that has been termed the sixth great extinction.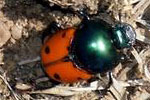 Deforestation causes species extinction in Madagascar
(03/07/2007) Deforestation has already caused the extinction of a large number of endemic insect species on the island of Madagascar, according to new research published in the March edition of the journal Biology Letters. The work suggests that only half the species confined to these forest areas will survive.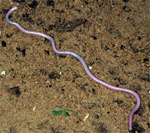 Blind pink snake discovered in Madagascar
(02/14/2007) A pink worm-like snake has been rediscovered in Madagascar more than 100 years after it was first found. The snake, which is blind and measures about ten inches long, is described in the February 1, 2007 edition of Zootaxa, a leading taxonomic journal.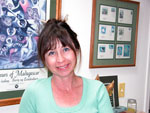 Lemurs at risk due to invasion of feral beasts, global warming
(02/07/2007) The lemurs of Madagascar are among the world's most threatened primates. Extensive habitat destruction, hunting, and the introduction of alien species have doomed dozens of species to extinction since humans first arrived on the island within the past 2000 years. Most of the casualties were Madagascar's largest lemurs -- today the biggest lemur is but a fraction of the gorilla-sized giants that once ruled the island. Despite this relative impoverishment of megafauna, Madagascar still boasts nearly 90 kinds of lemurs, all of which are unique to the island (save one species that was probably introduced to some nearby islands). Lemurs display a range of unusual behvaiors from singing like a whale (the indri) to sashaying across the sand like a ballet dancer (the sifaka). Interest in lemurs has helped Madagascar become a global conservation priority, though they are still at risk. Continued deforestation, scattered hunting, and looming climate change all pose significant threats to some lemur populations. One largely unexamined threat comes from introduced species such as the Indian civet and mongoose, but especially dogs and cats that have become feral.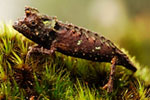 In search of wildlife, while dodging leeches, in Madagascar's unexplored rainforest
(02/05/2007) It is called a rainforest for a reason--because it rains.... and rains. As my field partner, Angelin Razafimanantsoa, and I make our way down muddy mountainsides in the endless downpour, we stop only long enough to pick squirming, bloodthirsty leeches off each other's face. Hours pass as we wade through knee-deep streams rushing over smooth, slippery rocks and thick forest stands. Seven hours ago, we anticipated arriving at our next base camp in three hours' time. Now, as night is falling, it seems we have at least five hours more to go.


Limitations of Global conservation Efforts in Madagascar
(02/04/2007) The success of the conservation efforts in a local context is usually primarily dependent on legal support and financial assistance. Recent experience however suggests that other factors may be just as important. Of particular importance is the management approach taken by the conservation authority. While the financial and regulatory incentives are sufficient in establishing protected areas, they maybe unsuccessful in protecting and maintaining them from local socioeconomic pressures. Madagascar as a case study clearly demonstrates this.


Lemurs communicate by scent
(01/29/2007) Ringtailed lemurs can recognize each other by scent according to a study published in the current issue of the journal Animal Behaviour. The research, conducted by Elizabeth S. Scordato and Christine M. Drea of Duke University, looked at olfactory communication in the ringtailed lemur, a charismatic primate that forms complex social groups led by a dominant female, so see what information is contained within the scent marks of the species.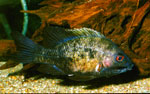 Rare fish from Madagascar named after renowned ichthyologist
(01/24/2007) An ichthyologist from the Wildlife conservation Society's New York Aquarium received the ultimate honor recently, when a freshwater fish discovered on the African island nation of Madagascar was named after him.


Madagascar conservation & Development journal launches
(12/25/2006) Madagascar Wildlife conservation, a Madagascar-based nonprofit, and the Jane Goodall Institute Switzerland have launched a new journal focused on conservation and development issues in Madagascar.


Madagascar plant may offer new treatment for malaria
(12/25/2006) A plant traditionally used by healers in Madagascar may offer a new way to treat malaria, a mosquito-borne illness that kills 2-3 million people -- mostly children in Sub-Saharan Africa -- per year.


Marine protected areas boost fishing yields
(12/18/2006) A new study conducted on the reefs of Madagascar found that marine protected areas can benefit the fishing industry. The study, authored by Frances Humber, a scientist with conservation group Blue Ventures, found that implementing seasonal fishing closures for octopus boosted returns for fishermen when the closed areas were reopened to fishing after seven months. Octopus yields increased 13 times while the total weight of octopus caught jumped 25 times.


3 new lemur species identified in Madagascar
(11/27/2006) Genetic analysis has revealed three previously unknown species of lemurs on the Indian Ocean island of Madagascar. The newly described lemurs are all mouse lemurs, one of the world's smallest primates. These lively lemurs are found in virtually all of Madagascar's forests where they feed on insects, fruit, and plant sap. Nocturnal, mouse lemurs betray their presence with high-pitched chirps.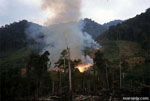 As presidential election approaches, Madagascar's lemur sanctuary burns
(11/23/2006) Forest fires are burning crucial lemur habitat and other hotbeds of biodiversity in Madagascar according to reports from the northeastern part of the island. The upcoming presidential election -- a bitterly contested poll -- may be partially to blame for the upswing in destruction says a leading local conservationist. Madagascar, a biologically rich, but economically poor island country located off the southeastern coast of Africa is almost as famous for its environmental problems as for its lemurs, a charismatic group of primates found nowhere else on Earth. The country is home to some 90 types of lemurs as well as a bonanza of other rare and unusual creatures including a puma-like mongoose, spiny hedgehog-like beasts called tenrecs, and absurdly colorful chameleons. But these creatures are highly threatened by habitat destruction, most of which results from slash-and-burn agriculture that has left less than 10 percent of the island's original forest cover standing.


Military coup in Madagascar fails, democracy remains in place
(11/20/2006) A Reuters reports that an attempted military coup by General Andrianafidisoa, who has been barred from running in the December 3 presidential election, failed on Friday.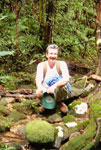 Lemur conservation in Madagascar requires poverty alleviation initiatives
(11/05/2006) Madagascar, an island larger than France that lies off the southeastern coast of Africa, is perhaps best known for its lemurs--primates that look something like a cat crossed with a squirrel and a dog. Lemurs, which are found naturally only in Madagascar, serve as a charismatic representation of the island's biodiversity and its problems. Since the arrival of humans some 2000 years ago from southeast Asia, Madagascar has lost all of its mega fauna and more than 90 percent of its wildlands. Today forest clearing for agriculture and hunting continues to put lemurs and other endemic species at risk. The good news is that because of Madagascar's biodiversity, the island has become a top priority for global conservation. At the forefront of these efforts is the Madagascar Fauna Group (MFG), an international consortium of zoos and related organizations that work to protect Madagascar's wildlife and ecosystems, and the Duke University Lemur Center, the one of the world's leading lemur research facilities. Charlie Welch, currently a research scientist at the Duke University Lemur Center, recently answered some questions on his experiences in lemur conservation. Welch, along with his wife Andrea Katz, has worked in Madagascar for 17 years and helped transform conservation efforts in the country.


Massive coral bleaching in Madagascar
(10/06/2006) A new survey of reefs along Madagascar's southwestern coast found massive damage from coral bleaching, including some reefs that lost up to 99 percent of their coral cover. But the survey team, led by the conservation groups Blue Ventures and the Wildlife conservation Society (WCS) and funded by conservation International (CI), also found some signs of hope. Scientists discovered several small reefs with corals that appeared to be resilient to rising sea temperatures and could ultimately be used to reseed damaged reefs. These resilient reefs may also provide valuable information about how to protect corals from future damage.


Poison frogs less toxic when habitat degraded
(10/02/2006) A new study suggests habitat degradation may put some frogs at greater risk of predation by reducing their toxicity. Studying Mantella poison frogs on the island of Madagascar, a team of researchers led by Valerie C. Clark, a chemistry PhD student at Cornell University who earlier this year published a paper describing the origin of frog toxins as being the insects upon which they feed, found that frogs collected from intact forests "consistently have a greater diversity of insect-derived toxins accumulated in their skin than do frogs from disturbed and fragmented forests."


Climate Change Threatens Lemurs
(09/18/2006) Tropical rainforests are among the most stable environments on Earth, but they are still no match for global climate change. Dr. Patricia Wright, the widely admired primatologist and Professor of Anthropology at Stony Brook University, finds that climate change could mean the difference between survival and extinction for endangered lemurs.






---

Find a mistake? Want to submit pictures or content? Contact WildMadagascar.org










WILDMADAGASCAR.ORG
WildMadagascar.org aims to raise interest in Madagascar, a land of cultural and biological richness






SUPPORT
You can help support wildmadagascar.org by using this link to buy from Amazon.com.





| | | | | |
| --- | --- | --- | --- | --- |
| | | | This portable guide offers a full survey of all Madagascar's mammals, both endemic and introduced, including many newly identified species. With vivid color photographs, line illustrations, and maps, Mammals of Madagascar: A Complete Guide is an essential book for any visitor. | |
GEAR