Madagascar News

Man starts record-breaking walk to protect one of the world's rarest primates [09/02/2015]
- If successful, experienced trekker Ash Dykes will become the first person to walk the length of Madagascar.
- Along the way, Dykes will meet with conservation groups working to protect the island nation's threatened wildlife.
- Only around 50 northern sportive lemurs are thought to exist, largely due to heavy habitat loss from charcoal production.


Vacationing couple may have discovered a new dwarf lemur species [08/27/2015]
- A University of Kent conservation researcher and his spouse recently stumbled upon an unusual dwarf lemur on a Madagascar out island.
- The species, possibly new to science, exhibits dwarfism and tameness, characteristics common to remote species inhabiting small isolated islands.
- The discovery will require further investigation by researchers to determine if the lemur is a new species; and if it is unique, to observe and describe it.


Conservation win in Madagascar: 7 new reserves established [07/16/2015]
- Madagascar gets 7 new reserves located in its eastern rainforests.
- Reserves protect endangered lemurs, herps, and other species.
- Initiative led by Rainforest Trust and its local partner, Madagasikara Voakajy.


Sustainable conservation in the Ibity Massif: a new protected area in Madagascar [12/05/2001]
The rate of deforestation and species extinction are increasing worldwide, and substantial efforts are being made to establish new protected areas (NPAs), build local environmental organizations and improve management of new preserves.

Invasion of Poisonous Asian toad in Madagascar is a greater threat to biodiversity than previously thought [12/05/2001]
Invasive species are among the greatest threats to the world's biodiversity, and amphibians rank among the most devastating vertebrate invaders. That's why the discovery of the Asian toad (Duttaphrynus melanostictus) in Madagascar's second largest city and main port of Toamasina in March 2014 so alarmed conservationists.

Photos: periodic closure of fishing grounds boosts octopuses and helps coastal communities [12/05/2001]
For communities that depend on fishing for their livelihoods, fishing bans as a way to conserve marine life are not always popular. But some villages in southwest Madagascar seem to have hit upon a strategy to reap economic gains from bans. Temporarily closing down portions of their octopus-fishing areas every year not only helps villages revive declining octopus populations, but also generates more income for fishermen and fisherwomen, according to a new study.

Up to 11 stunningly colorful chameleon species discovered in Madagascar [05/26/2015]
The panther chameleon, a lizard prized in the pet trade for its remarkable color changing abilities, may actually represent 11 different species, report researchers writing in the journal Molecular Ecology. Analyzing the genetics of more than 300 individual panther chameleons, Swiss and Malagasy researchers make a case that different color morphs of Furcifer pardalis may be distinct species.

Borneo's rainforest may get high-tech 3D scan to boost conservation [05/04/2015]
Conservation efforts in Borneo's embattled rainforest may get a boost with the launch of the newest version of an advanced airplane-based monitoring and assessment system. On Friday, the Carnegie Institution officially unveiled the latest upgrade of the Carnegie Airborne Observatory, an airplane equipped with technologies that enable scientists to conduct extremely high resolution scans of forest structure, biomass, and biological diversity. The platform has generated a wealth of information in places where it has been flown before.

Innovative community fisheries initiative wins top social entrepreneurship prize [04/13/2015]
A program that helps restore overfished areas through community-based marine conservation has won the Skoll Foundation's top prize for social entrepreneurship. Today the Skoll announced Blue Ventures, which piloted its approach in Madagascar a decade ago before expanding to other regions, was one of four organizations to be honored with the $1.25 million Skoll Award for Social Entrepreneurship.

Chocolate company, NGO work together to save lemurs [03/30/2015]
Despite its biodiversity and unique plants and animals, Anjanaharibe-Sud Special Reserve hosts only around a dozen tourists each year. In an effort to increase tourism and research opportunities, the Lemur Conservation Foundation will be using the money raised during the Madécasse promotion to develop Camp Indri - the reserve's only authorized tourist site.

Madagascar's frog haven: rich, underexplored, threatened [03/04/2015]
Madagascar is a treasure trove of frogs. Located off the east coast of Africa, this large island nation has more than 500 species of frogs, many of which are found nowhere else in the world. Much of Madagascar's rich biodiversity remains understudied. As researchers comb through the country's forests, they continue to discover previously undescribed species of frogs, adding to Madagascar's amphibian diversity.

Rainforest loss increased in the 2000s, concludes new analysis [02/25/2015]
Loss of tropical forests accelerated roughly 60 percent during the 2000s, argues a paper published in the journal Geophysical Research Letters. The findings contradict previous research suggesting that deforestation slowed since the 1990s. The study is based on a map of 1990 forest cover developed last year by Do-Hyung Kim and colleagues from the University of Maryland. The map, which includes 34 countries that contain 80 percent of the world's tropical forests, enabled the researchers to establish a consistent baseline for tracking forest cover change across regions and countries over time.

$7 million could save lemurs from extinction [02/25/2015]
Last year, scientists released an emergency three-year plan that they argued could, quite literally, save the world's lemurs from mass extinction. Costing just $7.6 million, the plan focused on setting up better protections in 30 lemur hotspots. However, there was one sticking point: donating to small programs in one of the world's poorest countries was not exactly user friendly.

Campaign asks consumers to directly support forest conservation [02/18/2015]
A new campaign is calling on consumers to directly support forest conservation with their wallets. Stand For Trees is an initiative launched by Code REDD, a marketing platform for a group of organizations running REDD+ forest conservation projects.

Madagascar establishes a sanctuary for sharks [02/06/2015]
The government of Madagascar has established the Indian Ocean island's first shark sanctuary in an area famous for its marine biodiversity, reports the Wildlife Conservation Society (WCS).

Chameleon crisis: extinction threatens 36% of world's chameleons [11/24/2014]
Chameleons are an unmistakable family of wonderfully bizarre reptiles. They sport long, shooting tongues; oddly-shaped horns or crests; and a prehensile tail like a monkey's. But, chameleons are most known for their astonishing ability to change the color of their skin. Now, a update of the IUCN Red List finds that this unique group is facing a crisis that could send dozens of chameleons, if not more, to extinction.

New gecko described in Madagascar [11/16/2014]
Researchers have described a previously undocumented species of gecko in Madagascar.

Small chocolate company takes big steps toward conservation and human development [10/01/2014]
Madécasse is not just another chocolate company selling their bars in high-end supermarkets across the United States and Europe. Their bean-to-bar business model is shaping the way small companies deal with the developing world while providing new reasons to conserve a biodiversity hotspot.

A path to becoming a conservation scientist [09/05/2014]
The path to finding a career often involves twists and turns. Serendipity is important — one rarely anticipates what small events, chance occurrences, and seeds of inspiration will spur decisions that lead to pursuing one job or another. For Zuzana Burivalova, a PhD candidate based at the Swiss Federal Institute of Technology in Zurich (ETH Zurich), the road to becoming a tropical forest ecologist began as a child in a small Czech Republic village with a foldout children's book about rainforests.

New skeleton frog from Madagascar is already Critically Endangered [08/20/2014]
Sometimes all it takes is fewer clicks. Scientists have discovered a new species of frog from Madagascar that stuck out because it "clicked" less during calls than similar species. Unfortunately the scientists believe the new species—dubbed the Ankarafa skeleton frog—is regulated to a single patch of forest, which, despite protected status, remains hugely threatened.


Overviews - by language

Arabic
Chinese-simplified
Chinese-traditional
Croatian
Czech
English
Farsi
French (expanded)
German
Greek
Hindi
Indonesian
Japanese
Italian
Malagasy (rainforests)
Malay
Portuguese
Portuguese (Brazil)
Romanian
Russian
Spanish
Slovak
Ukrainian

Key pages

About Madagascar
Maps
FAQs
People
History
Flora
Wildlife
Birds
Fish
Frogs
Invertebrates
Lemurs
Mammals
Reptiles
Environment
Conservation
ANGAP
Parks
Educational
Media resources
Store
Madagascar Travel
About the site
How to help
Links
Contact



Photos



Lemurs

Frogs

Insects

Reptiles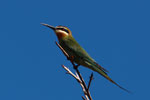 Birds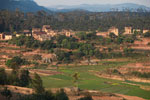 Villages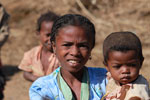 People

Landscapes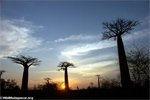 Flora
Other useful resources
The Aye-Aye and I : A Rescue Journey to Save One of the World's Most Intriguing Creatures from Extinction