Madagascar News
Small chocolate company takes big steps toward conservation and human development
(10/01/2014) Madécasse is not just another chocolate company selling their bars in high-end supermarkets across the United States and Europe. Their bean-to-bar business model is shaping the way small companies deal with the developing world while providing new reasons to conserve a biodiversity hotspot.



A path to becoming a conservation scientist
(09/05/2014) The path to finding a career often involves twists and turns. Serendipity is important — one rarely anticipates what small events, chance occurrences, and seeds of inspiration will spur decisions that lead to pursuing one job or another. For Zuzana Burivalova, a PhD candidate based at the Swiss Federal Institute of Technology in Zurich (ETH Zurich), the road to becoming a tropical forest ecologist began as a child in a small Czech Republic village with a foldout children's book about rainforests.



New skeleton frog from Madagascar is already Critically Endangered
(08/20/2014) Sometimes all it takes is fewer clicks. Scientists have discovered a new species of frog from Madagascar that stuck out because it "clicked" less during calls than similar species. Unfortunately the scientists believe the new species—dubbed the Ankarafa skeleton frog—is regulated to a single patch of forest, which, despite protected status, remains hugely threatened.



Titanium vs. Millipedes: new species discovered in Madagascar threatened by mining
(08/13/2014) A team of scientists from the United States and Germany has recently described seven new species of Malagasy giant pill-millipede. All but one of these species are considered "microendemics," in that they have only been found in small, isolated forest patches.


China failing to take effective action against timber smugglers
(08/12/2014) Voluntary guidelines established by the Chinese government won't be enough to curb rampant timber smuggling by Chinese companies, putting 'responsible' actors at risk of having their reputations tarnished, argues a new campaign by the Environmental Investigation Agency (EIA).



Only 15 percent of world's biodiversity hotspots left intact
(07/14/2014) The world's 35 biodiversity hotspots—which harbor 75 percent of the planet's endangered land vertebrates—are in more trouble than expected, according to a sobering new analysis of remaining primary vegetation. In all less than 15 percent of natural intact vegetation is left in the these hotspots, which include well-known jewels such as Madagascar, the tropical Andes, and Sundaland.



Next big idea in forest conservation? Rewards for reforestation
(07/10/2014) Susie McGuire and Dr. Edward Louis Jr. are the powerhouse team behind the Madagascar Biodiversity Partnership (MBP), an NGO that involves local residents—both human and primate—in reforestation efforts in Madagascar. A conservation geneticist and veterinarian by training, Ed Louis has discovered 21 lemur species and successfully reintroduced two species of locally extinct lemurs back into the wild.



Over 800 species added to IUCN threatened list, including 44 lemurs
(06/16/2014) Experts have added 817 species to the threatened categories of the IUCN Red List in the latest update. Those added include 51 mammals—mostly lemurs—and over 400 plants. The new update finds that over 90 percent of lemurs and 79 percent of temperate slipper orchids are threatened with extinction.



Singapore intercepts massive illegal shipment of Madagascar rosewood
(06/03/2014) Authorities in Singapore have made the largest-ever international seizure of rosewood logs, providing further evidence that industrial-scale smuggling of Madagascar's rainforest timber continues despite an official ban on the trade. Details of the seizure remain sparse since the investigation is still active, but leaked correspondence between officials in Madagascar indicates that the shipment amounts to 3,000 tons, or more than 29,000 illicit rosewood logs.



Next big idea in forest conservation? Linking public health and environmental degradation
(05/22/2014) Dr. Christopher Golden is an explorer on a mission. As both an epidemiologist and ecologist, he is investigating and expanding the interface between human and ecosystem health. This year, Golden was appointed the Director of Wildlife Conservation Society's HEAL (Health & Ecosystems: Analysis of Linkages) Program.



Lemur expert becomes first woman to win top conservation prize
(05/17/2014) Lemur expert Patricia C. Wright has become the first woman to win the prestigious Indianapolis Prize, an award granted every two years for achievement in wildlife conservation. Wright was chosen for her contributions to wildlife conservation in Madagascar, where she's worked with lemurs for nearly 30 years.



Vazaha is Malagasy for 'gringo': Conservation, national identity, and conflicting interest in Madagascar
(05/15/2014) In the fight for conservation Madagascar is without a doubt on the front lines. Not only are most of its forests already destroyed—with a mere 10% of intact forest remaining at best—but there's still much to lose in what remains. Madagascar is listed as having the third highest primate diversity in the world, with all primate species being lemurs.



Amphibian pandemic may have hit Madagascar, hundreds of species at risk of infection
(04/11/2014) Madagascar is one of the world's hotspots for amphibian diversity, home to so many frog species that many of them don't even have names. But soon the island may also harbor a fungus causing drastic declines – even extinctions – of frogs around the world. Ironically, the wildlife trade that's often blamed for helping spread the disease may also give scientists a chance to prevent it.


Madagascar lemurs share spotlight with primatologist in new IMAX film
(04/03/2014) Tomorrow's opening of the IMAX film Island of Lemurs: Madagascar showcases not only endangered primates, but one of Madagascar's top conservationists: primatologist Patricia C. Wright.



Panda lemur making a comeback
(03/20/2014) One of the world's biggest populations of greater bamboo lemurs (Prolemur simus)—sometimes known as the panda lemur—has doubled in just three years, giving conservationists new hope that the species can be kept from extinction. With the recent arrival of twenty babies, a community conservation project run by the Aspinall Foundation has boosted the local population to over 100 individuals in Andriantantely, one of Madagascar's only surviving lowland rainforests. Greater bamboo lemurs are currently categorized as Critically Endangered, though they were once believed extinct until hidden populations were uncovered in the 1980s.



The lemur end-game: scientists propose ambitious plan to save the world's most imperiled mammal family
(02/20/2014) Due to the wonderful idiosyncrasies of evolution, there is one country on Earth that houses 20 percent of the world's primates. More astounding still, every single one of these primates—an entire distinct family in fact—are found no-where else. The country is, of course, Madagascar and the primates in question are, of course, lemurs. But the far-flung island of Madagascar, once a safe haven for wild evolutionary experiments, has become an ecological nightmare. Overpopulation, deep poverty, political instability, slash-and-burn agriculture, illegal logging for lucrative woods, and a booming bushmeat trade has placed 94 percent of the world's lemurs under threat of extinction, making this the most imperiled mammal group on the planet. But, in order to stem a rapid march toward extinction, conservationists today publicized an emergency three year plan to safeguard 30 important lemur forests in the journal Science.


Microsoft buys Madagascar carbon credits
(02/15/2014) Technology giant Microsoft has bought the first carbon credits generated under a rainforest conservation project in Madagascar, reports Wildlife Conservation Society (WCS), which organized and backed the initiative.


Madagascar's new president pledges to fight illegal logging
(02/07/2014) Madagascar's newly elected president Hery Rajaonarimampianina pledged to 'lead the fight' against illegal rosewood logging in the impoverished island nation.


NASA data reveals impact of cyclones on forests in Vietnam, Madagascar
(01/30/2014) Forest disturbance in Madagascar and Vietnam increased significantly in the aftermath of cyclones that hit the countries last year, according to a forest tracking tool developed by a team of NASA researchers.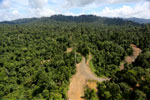 Rainforest news review for 2013
(12/26/2013) 2013 was full of major developments in efforts to understand and protect the world's tropical rainforests. The following is a review of some of the major tropical forest-related news stories for the year. As a review, this post will not cover everything that transpired during 2013 in the world of tropical forests. Please feel free to highlight anything this post missed via the comments section at the bottom. Also please note that this review focuses only on tropical forests.


more

Overviews - by language

Arabic
Chinese-simplified
Chinese-traditional
Croatian
Czech
English
Farsi
French (expanded)
German
Greek
Hindi
Indonesian
Japanese
Italian
Malagasy (rainforests)
Malay
Portuguese
Portuguese (Brazil)
Romanian
Russian
Spanish
Slovak
Ukrainian

Key pages

About Madagascar
Maps
FAQs
People
History
Flora
Wildlife
Birds
Fish
Frogs
Invertebrates
Lemurs
Mammals
Reptiles
Environment
Conservation
ANGAP
Parks
Educational
Media resources
Store
Madagascar Travel
About the site
How to help
Links
Contact



Photos



Lemurs

Frogs

Insects

Reptiles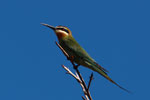 Birds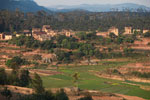 Villages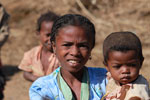 People

Landscapes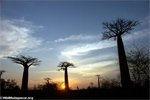 Flora
Other useful resources